Cork County Council Have Declared The Housing And Homelessness Crisis As An Emergency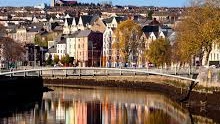 The Council today accepted a motion calling on the Taoiseach to declare an emergency and to establish a National Emergency Committee.
Councillor Diarmaid O'Cadhla put the motion before the County Council and is now calling on the City Council to accept the motion for Cork to have a united stance on the issue.
The Council have also requested the Chief Executive to identify and report on possible emergency measures to address the crisis.
A 24 hour picket is to take place outside City Hall on February 27th demanding the Government to address the issue with urgency.
Speaking to RedFM News Councillor Diarmaid O'Cadhla says the crisis is severe and people are at the end of their tether:
More from Cork