Morrisson's Island Project Opens For Public Consultation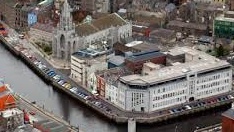 The Morrison's Island project will incorporate the defences into a new street design

The first phase of Cork's €140 million flood relief scheme is opening for public consultation this morning.
The Morrison's Island project will incorporate the defences into a new street design which will stretch from Parnell Bridge to Parliament Bridge and will also include a boardwalk and a public plaza.
Up to 50 car park spaces will be retained alog Morrison's Quay however just under 100 spaces will be removed
Concern has been expressed about the project with fears from campaign group Save Cork City that the new design focuses too much on raised walls threatening the historic fabric of the city.
Speaking to RedFM News Cork City Council's Environment Director, David Joyce says the new project will be all inclusive:
More from Cork