Tributes pour in for Cork City legend Noelle Feeney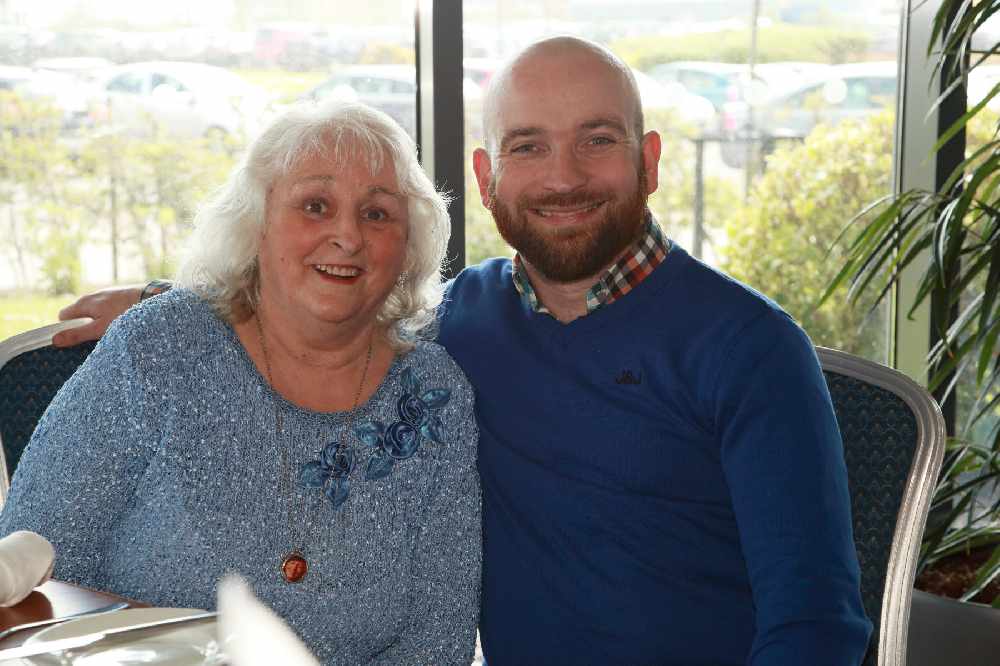 Ruairi with Noelle at the Southside Sports Star Awards at the Cork International Hotel last year. Pic Ger Bonus
The Cork football world was sent into mourning yesterday with the news that Noelle Feeney had passed away.
Cork City's biggest fan passed away peacefully at Marymount yesterday after a short illness.
The Ballyphehane native was a familiar face to all those who went through the Turners Cross turnstiles. Everybody knew Noelle.
Personally, I've known Noelle for the guts of 20 years. I bought my FAI Cup final tickets from her house in 1998. As I started covering City for Cork's RedFM around 2004 I got to know her better, and was glad to call her a friend. Noelle loved talking, and talking about City was her favourite thing to do. I'd get regular phone calls from her - "Roar? How are ya boy?" - and those calls could last an hour. And the topic was always City. She absolutely adored the club. And City fans adored her.
I'm saddened to hear of her passing, and my thoughts are with her family.
Rest in peace, Noelle.
And the tributes pouring in from players, clubs and fans alike is a testament to how loved Noelle was loved around Turners Cross and across the country, and how dearly she will be missed.
It is with heavy heart that we write about the passing of Noelle Feeney, RIP. https://t.co/IijIGPMP8d

— Cork City FC (@CorkCityFC) February 6, 2017
Very sad to hear the passing of Noelle Feeney , always looked after players at Cork City FC , great character , big heart . Rip Noelle x

— liam kearney (@liamkearney7) February 6, 2017
very sad to hear,lovely woman who must have been cities biggest fan,never failed to splash us with a bit of holy water before everygame https://t.co/au7KN2hrar

— Kevin Doyle (@KevinDoyle1983) February 6, 2017
Sad to hear of the passing of @CorkCityFC Noelle Feeney....nobody better to splash holy water in your face before home games #RIP??

— Leon McSweeney (@LeonMcSweeney) February 6, 2017
RIP Noelle Feeney happy memory's of being splashed with holy water coming out of the tunnel . Thoughts are with her family today.

— Gearóid Morrissey (@Gearoid_M) February 6, 2017
@spike_osullivan this says it all about the woman and what she ment to #Cork trending ahead of the #SuperBowl Noelle Feeney #RIP ??? pic.twitter.com/4LePYai7xk

— Gary Spike OSullivan (@spike_osullivan) February 6, 2017
Just realised that Noelle Feeney has been at my desk all along. Rest in peace Noelle @CorkCityFC @marymountcork @CllrDesCahil @BillymacGill pic.twitter.com/V5d5Slf0K2

— Tony O'Donoghue (@Corktod) February 6, 2017
We are so lonely at the passing of #NoelleFeeney , Mother to John, Queen Mother to all @CorkCityFC and #MotherGoose to all the smallies. RIP pic.twitter.com/V4Olf1jUe0

— john creedon (@johncreedon) February 6, 2017
Cobh Ramblers FC would like to express our condolences to the family of Noelle Feeney following her recent passing. May she rest in peace

— Cobh Ramblers FC (@CobhRamblersFC) February 6, 2017
Farewell Noelle Feeney;wonderful, wickedly funny; made you wonder why more don't love their local clubs or cities as much as she could. #RIP

— david kelly (@dk3lly) February 6, 2017
Very sad day for @CorkCityFC with the passing of Noelle Feeney. Pictured with another #CCFC84 legend the late Noel O'Mahony in May 2013 pic.twitter.com/FVki27mtVn

— Patrick Healy (@pghcork) February 6, 2017
Very sad to hear death of Noelle Feeney .She will be sadly missed by @CorkCityFC @marymountcork and all clubs, charities who she helped .RIP pic.twitter.com/GZh80Pehpq

— @avondaleutdfc (@AvondaleUtdFC) February 6, 2017
Very sad to hear about Noelle Feeney's passing. Bought my first City jersey out of her front room. Big personality with big heart. RIP

— Brian Fitz (@B_Twitzgerald) February 6, 2017
I bought my first Cork City jersey from Noelle Feeney's sitting room. She ran the bus to my first ever away game. RIP Noelle

— Erika Ní Thuama (@Erika_2_me) February 6, 2017
So sad to hear of Noelle Feeney's passing, so important to @CorkCityFC through the years. A special lady. pic.twitter.com/PyfIfrbxDv

— John O'Sullivan (@johngosullivan) February 6, 2017
A sad day for Cork City fans. I have many, many fond memories of her, she will be dearly missed. RIP Noelle. https://t.co/rOo7paNq3V

— Ruairi O'Hagan (@Haganator) February 6, 2017
30June06 @Kevin_Doyle29 back at the Cross to get 2005 LOI medal. With Noelle Feeney & a young @Haganator #legends pic.twitter.com/FIRYEnP4g6

— Patrick Healy (@pghcork) June 29, 2013
More from Sport