Win Expert GAA Training with the Chill Insurance Elite Performance Programme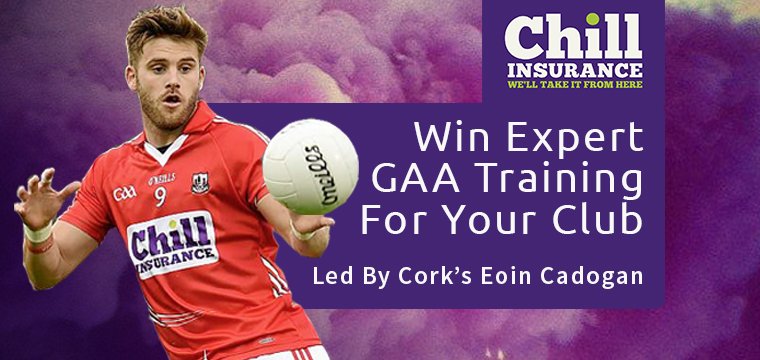 Every Club is unique.
So what makes yours stand out from the rest?
Cork's RedFM have teamed up with the Chill Insurance Elite Performance Programme to offer Cork clubs a chance to win expert health, fitness and performance training from the GAA's top performance coaches.
Led by Cork's Eoin Cadogan, physio Eamon O'Reilly of the Santry Sports Surgery Clinic and nutritionist Arthur Dunne of Cork GAA will go to your club and provide you with expert advice.
See below for a detailed breakdown of the prize.
To enter just tell us about your club and your club legend! You can enter online through the form below, upload a video, or text LEGEND to 086 8 104 106 and tell us why your club deserves to win.
Chill Insurance comparing 14 different insurers to get you the best deal on your policy.
Arthur Dunne - Nutritionist
- Arthur is a qualified Performance Nutritionist working with both senior and age grade intercounty teams including the Cork senior football team and Dublin U21`s. He also works with the Leinster rugby academy and Foodflicker a recipe based performance nutrition company. He has a food focused approach for optimising health, physical development and exercise performance.
Eamon O'Reilly - Performance Rehab physiotherapist
Eamon graduated in 2007 with an Honours degree in Physiotherapy and completed his taught masters – Msc. in Advanced Musculoskeletal Physiotherapy (Manual Therapy) in 2014.
He is currently head physiotherapist with the Dublin Senior & U21's hurling teams and has worked with the senior team since 2011. He is also the current head physiotherapist with the Irish International Rules team.
Eamon has a special interest in lower limb biomechanics, chronic groin and hamstring injury, long term athlete development and injury prevention. Eamon works in the Sports Surgery clinic and carries an athlete based caseload within the clinic, primarily dealing with chronic hip/groin and hamstring.
Breakdown of Prize
PILLAR 1
Staying Injury Free
Talk by Eamon O'Reilly who is the Lead Physio for Dublin-he will show the winning club how to prevent injuries and recovery methods, followed by a Q&A
PILLAR 2
Nutrition
Talk by a leading nutritionist Arthur Dunne (Cork GAA Performance Nutritionist​) who will give out match day meal plans, will recommend carbs, protein & fat intake players should be taking in, Suggested recipes, followed by a Q&A.
PILLAR 3
Strength and Conditioning
Led by Cork's own Eoin Cadogan who will show your club the best gym warm-ups and Optimal exercises to improve performance
PILLAR 4
Pitch Exercises
Led by Eoin Cadogan-this will include Warm up exercises, Skill drills & Performance perfection