Cork Crafts - Annabel Langrish Mugs
A West Cork artist has highlighted the dangers of plastic beach pollution in her latest exhibition which she will display at the City Hall Crafts and Design Fair which takes place in Cork from November 24-27
This year's 25th Anniversary Fair promises to be a bumper celebration of an event that traditionally heralds the start of the Christmas season in Cork.
Annabel Langrish from Ahakista is an avid beachcomber who makes mirrors and other art-work from washed-up driftwood at the nearby beaches.
The artist who can count BBC chat show host Graham Norton as a neighbour and fan decided to use her art to create awareness of the perils of plastics to beach wildlife.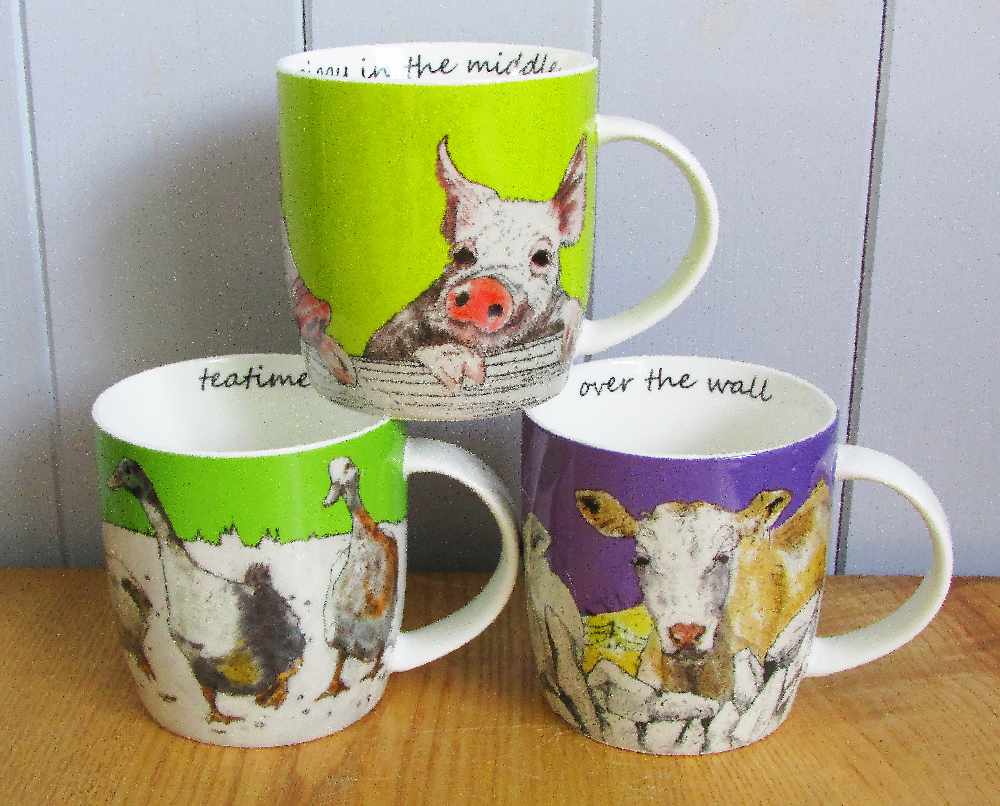 "The rubbish I find on the beach includes electrical sockets, inhalers and even plastic wreaths," she said.
"There are also Barbie shoes, plastic bullet casings and fishing tackle and nets.
"What happens is horrific. Sea birds are attracted to plastic and either get entangled or bring pieces back to feed their babies which is lethal."
Annabel who was brought up in Barbados is well-known for her prints of Irish wildlife and plants which she transfers onto cards, cushions, lamps and coasters.
"I'm always looking to do something different," she said.
"My work ranges from water colours, oils and drawings of landscape boards, animals and the human figure to ceramics and sculpture."
She has galleries in Kinsale and Annascaul as well in Ahakista where she also operates her own café on four-acre gardens.
Over €150,000 per day will be spent at the biggest crafts fair outside Dublin, which will feature over 60 of the best contemporary crafts and artisan food producers from all over Ireland.
This year's fair promises to be a bumper celebration of an event that traditionally heralds the start of the Christmas season in Cork, offering a unique chance to pick up individual and original Christmas gift ideas.
"The City Hall Crafts and Design Fair gives a vital economic stimulus to the crafts and design industry in the Munster region, said Festival organiser Patrick O'Sullivan.
"Shoppers will find a wide range of crafts, artisan-made goods, food and drink, designer handcrafted outfits and accessories at the Fair.
Among the range of other exhibitors showcasing individual and original pieces this year will be Cobh artist and jeweller Barbara Hall, Wexford's bespoke hardwood furniture designers Bevel Furniture and award-winning jewellery creator Blaithin Ennis, Tipperary artisan food producer Florrie Purcell.
Julie and Owen McLoughlin of Jando Design have created a range of prints specially for the City Hall Crafts Fair which will feature some favourite local landmarks such as Saint Fin Barre's Cathedral, The Old Head of Kinsale Lighthouse and Cork City Gaol.
The 25th City Hall Crafts and Design Fair takes place at the City Hall, Cork from November 24-27. Full details and booking can be found at www.cityhallcraftsfair.ie.