UPDATE: Up to 25 millimetres of rain has already fallen in Cork since last night.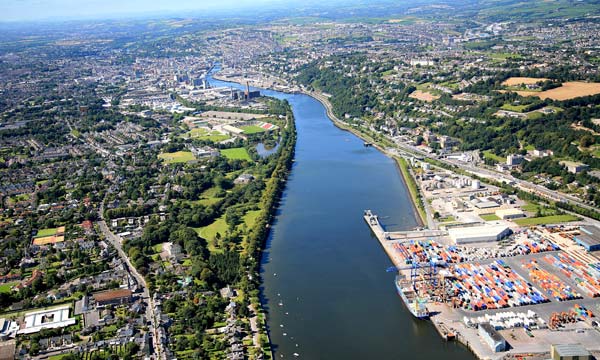 A status Orange warning for rain remains in place for Cork until 9pm- with up to 80 millimetres of rain expected to fall. 
Motorists are being warned to avoid travelling if they can, and to expect spot flooding, excess surface water and very high winds if they do travel.
There are reports of flooding on the Bantry to Cork Road, at the bridge in Rathcoole, at Longfield's Bridge in Mallow and close to the filling station on the N71 on the Innishannon side of Bandon.
A section of the R587 is impassable outside Dunmanway and Council crews are at the scene.
A tree is also blocking the road outside Fivemilebridge.
Met Éireann's Elizabeth Coleman says rain will be the biggest issue over the coming hours:
"Have an orange rainfall warning in effect for counties Kerry, Cork Tipperary and Waterford and we've already experienced 20 to 25 mils of rain in the Cork area with this event, and there will be further rain through the day today. For the rest of the country, excluding Donegal we have a Yellow Rainfall Warning, both wind and rain warning are valid until 2100 today."
The City Council are warning people living close to the River Lee and its many tributaries that they may experience some localised flooding.
Rivers such as the Shournagh in Cloghroe, the Bride in Blackpool, the Curraheen River, Glashaboy River in Glanmire and Tramore River in Togher may burst their banks.
The Lee Road is closed this morning and care is needed along the Carrigrohane Straight as the Lee Fields are flooded.
Meanwhile the fire service are dealing with fallen trees in Maryborough Hill and on the Lee Road.
Director of Roads at Cork County Council, Padraig Barrett, says people need to take care if out through the course of the day:
"After an event like last evening and that we're currently having because there are strong winds as well, there is a risk of flooding and there's a risk of damage to the road surface. There's also a risk of fallen trees. And there are other risks on the road, say for example in locations where local authority staff are working, whether it's erecting flood defences or addressing flooded areas. I'd advise the public to steer well back from defended areas, to step back from areas that have flooding and allow the staff to go about their business of clearing and solving the problems in a safe way."
More from Cork