5 outdoor activities to try out in Cork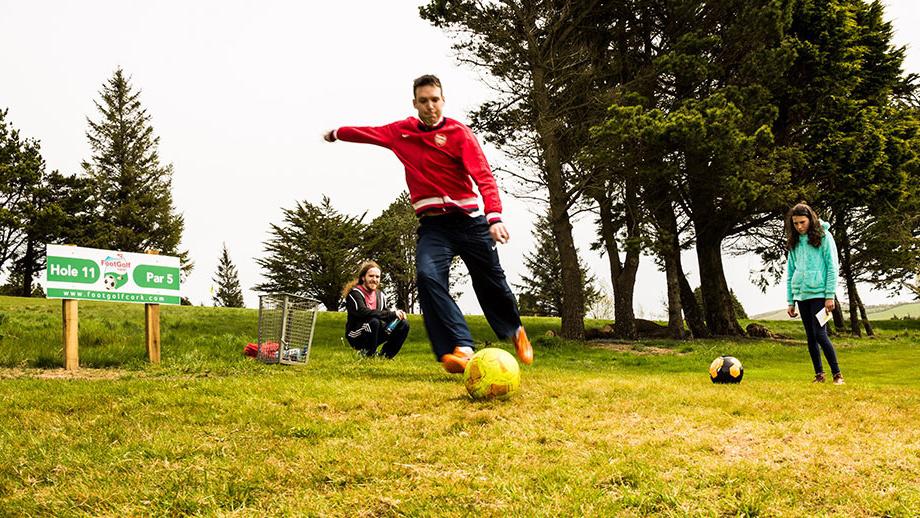 Here's some fun outdoor activities to try out this summer!
1. FootGolf, Cork
FootGolf is the game that blends football and golf into one sport. It is situated on the outskirts of Kinsale and Footgolf Cork is the first and only purpose-built footgolf course in the South of Ireland. There are 18 holes of footgolf to be played and each round takes between approximately 1.5 and 2 hours. The course is suitable for all the family as it's easy to play! There is also hurlgolf golf and hurling with the rules being similar to golf with each hole given a par and the aim for the player is to hit a sliotar into the hole by taking as few shots as possible.
Find out more: https://www.footgolfcork.com/
2. Smugglers Cove
Head down to Ireland's first-ever tubing park at Smugglers Cove is Fast, where 4 tracks are varying in length from 50 to 100 meters. The Tubing Park is like a snow-free ski run where people sit into our bright coloured tubes and enjoy a unique ride downhill overlooking beautiful Rosscarbery in West Cork. The tracks all offer a different experience that will make people laugh and scream out loud as they get the thrill of a lifetime on our crazy slides. The first track is a long parabolic turn that stops after crossing a bridge. If speed is your thing, you will love the double track which allows you to race against friends via a double straight fast run under the bridge. The last and biggest track is the tubby jump, which is a steep run into a big kicker where the rider is propelled into the air before landing onto a giant freestyle ski bag. You can also try out the 18 hole Crazy Golf Course and theTimber Maze.
Find out more: https://smugglerscove.ie/
3. Funkytown Adventure Centre
Funkytown Adventure Center is Cork's Leading Watersports Provider located in Fountainstown, Co. Cork. They offer a wide variety of activities and services throughout Cork Harbour. including Kayaking, Stand Up Paddleboarding, Water Trampolining, Passenger Rib Tours, and Equipment Hire. In addition, they also provide Private Tuition, Coastal Adventures, and Corporate days out.
Find out more: https://www.funkytown.ie/
4. Zipit Forest Adventures
Discover your wild side in the treetop high ropes parks, with fun and excitement for all the family. The course is built in a natural forest setting, offering the perfect escape from the hustle and bustle of everyday life. Zipit's fun-packed circuits include zip lines, swinging logs, cargo nets and rope bridges. You can enjoy thrills high above the ground with the most up to date safety equipment to ensure you get the most out of your visit. Zipit Farran Park is located in Farran Forest Park on the southern shore of Inniscarra lake in County Cork. It enjoys panoramic views of the lake and surrounding countryside. The 45 hectare forest once formed a mere fragment of the vast Farran Estate which was owned by a Captain Clarke, of tobacco products fame.
Find out more: https://www.zipit.ie/
5. Ballyhass Aquapark
Ballyhass Aquapark is munster's largest and most exciting inflatable water parks. It covers over 40m squared of an old quarry lake in Mallow and the same in Lee Valley Harbour on the Innisscarra Dam in Coachford Co.Cork. You and your friends can, jump, slide, bounce and race each other around the wipeout style courses. Kids as young as 6 can go on but for ages 6-11 must have an accompanying adult go on with them. From 11 and up they are fully supervised on the park by our Team.
Find out more: https://www.ballyhass.ie/
More from Entertainment