BBC Three Orders Second Series Of The Young Offenders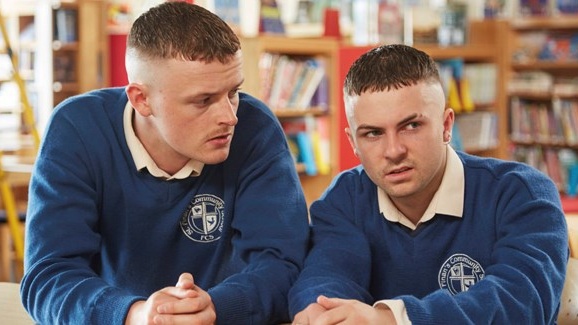 Great news for The Young Offenders!
Originally a feature film in 2016, The Young Offenders has just started a six part series on BBC Three and today the channel and BBC Comedy have announced that it has commissioned a further six episodes of the Irish comedy from producers Vico Films.
Written and directed by Peter Foott the series follows the coming of age adventures of lovable rogues Conor & Jock (Alex Murphy and Chris Walley, reprising their roles from the smash hit feature film) as they navigate their awkward teenage years, hatching plans and adventures to help distract from their tough home lives and their inability to stay out of trouble at school. Conor's long suffering mother Mairead (Hilary Rose) tries to keep both her son and his best friend on the straight and narrow, with varying degrees of success.
Shane Allen says "It's vital we back emerging talent to the hilt and believe in this show so much that a second series is an absolute must. The rare confluence of dazzling performances across this show and in Peter's writing the strong sense of place and character makes it the quintessential BBC Three comedy. By turns raucous, by turns heart-breaking and consistently hilarious."
Damian Kavanagh says: "Commissioning series one was a huge coup for BBC Three so I'm delighted The Young Offenders will be returning to us for a second series. It is exactly the type of daring, original comedy we live for on BBC Three and we're looking forward to continuing our relationship with them."
Creator of The Young Offenders Peter Foott says "The response already to the show has been phenomenal, myself and the whole team have been blown away by it. To have BBC Three commission a second series so quickly is a dream come true, their support for the project has been unwavering from the start. This level of commitment is incredibly reassuring, and we're keen to continue telling stories involving these characters. We're very grateful to the BBC for allowing us to do so."
The Young Offenders has been commissioned for BBC Three by Damian Kavanagh, Controller of BBC Three and Shane Allen, Controller Comedy Commissioning. The Commissioner for the BBC is Alex Moody. The Executive Producer for Vico Films is Peter Foott, the Producer is Martina Niland.
The Young Offenders will air on RTÉ2 from Thursday February 8th, and will air on BBC One after The Graham Norton Show from Friday February 9th.
More from Entertainment