Cork City restaurants offering outdoor dining from next week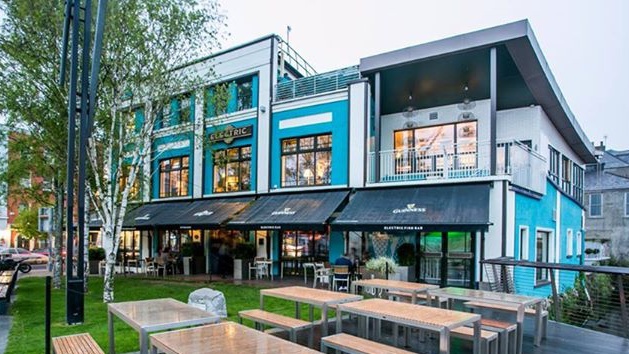 Here are 5 spots offering outdoor dining from next week !
1. The Cornstore, Cork
The Cornstore in Cork are excited to welcome back diners to Cork City from Monday the 7th of June. They have a great outdoor seated heated area.
You can book online for parties of 1-4 people on www.cornstorecork.ie and for 5+ people email cork@cornstore.com.
2. The River Club at The River Lee, Cork
The River Club have installed a new terrace for the summer. They transformed the terrace into a wild, Irish meadow, in celebration of biodiversity & the role it plays in living in a climate-consious manner. Expect a bursting canopy of colour with blooming silk wildflower, planters of pollinator-friendly blooms, and a bespoke cocktail menu in partnership with Ketelone Bontanical that supports climate-action charity, Vita Ireland. The installation has been crafted using recycled silk flowers from previous installations, and new flowers used will be used again in future installations. Each person that orders a bespoke cocktail from the terrace will recieve an Irispen visit h wildflower infused seed-bomb, so you can take a part of the installation home to your own garden, and help support the pollinator population.
3. Good Day Deli, Nano Nagle Centre, Douglas St
In the gorgeous gardens of the Nano Nagle Centre, an inner-city oasis where the team serve a fine menu of locally sourced produce. When booking, there are 2 sections to choose from - Garden Patio + Garden Gazebos. Choose the Garden Patio for tables under 4 guests. They offer popular brunch and lunch dishes with natural wines from Le Caveau as well as Irish craft beers.
4. Electric, South Mall
With a hugely popular riverside lounging space outside their front door, Electric will be welcoming you back to outdoor dining from the 9th of June. They will not be taking any bookings, walk ins only.
5. Amicus, Paul Street
Amicus are opening for outdoor dining next week in the heart of Cork City.
For booking enquiries please email: info@amicusrestaurant.ie
More from Entertainment