Ed Sheeran Has Angered His Neighbours With His 'Wildlife Pond'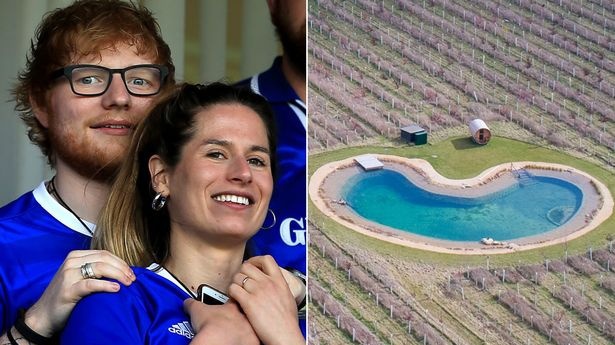 Ed Sheeran has angered his neighbours following the construction of a 'wildlife pond' on his property.
Permission was granted for the pond on his Suffolk estate as long as the star refrained from "recreational leisure such as swimming". However neighbours are now complaining that instead of the so called pond, it seems Ed has built a heart shaped swimming pool.
Neighbours have seen aerial photos of the site and are concerned that the area will be used for parties as it looks like a changing room and a jetty to dive into the pond are surrounding the water which would suggest it will be used as a swimming pool.
According to the planning application for the pond, it would "support nature conservation...providing a natural habitat for breeding and wetland invertebrates such as dragonflies and water beetles, as well as providing a source of drinking water to birds and mammals."
Permission was granted for the jetty and steps "to enable access to the pond in the event of maintenance and emergency."
One of Ed's neighbours, Tony Robinson, has written to officials complaining about the pond saying, "I believe that the development of the site is more about creating an environment for a 'wild lifestyle' rather than the actual 'wild life'.
Complaints have previously been made by neighbours of Sheeran over the level of the music being played on the estate.
More from Entertainment