Indiependence Festival Day By Day Breakdown Revealed
Indiependence Music & Arts Festival today revealed the Day X Day line-up for INDIE18 and once again brings some of the brightest and biggest names of the summer festival circuit to Deer Farm in Mitchelstown, Co Cork, this August 3 - 5.
FRIDAY sees Walking on Cars headline the Main Stage at INDIE18, with UK producer and DJ, Sigala, providing the beats leading up the opening evening's grand finale. Joining them on a rapid-fire Friday night are Circa Waves, The Blizzards, HamsandwicH, Wyvern Lingo, Little Hours, Roe, Ailbhe Reddy, Inhaler, Sean OB, Mindriot and more!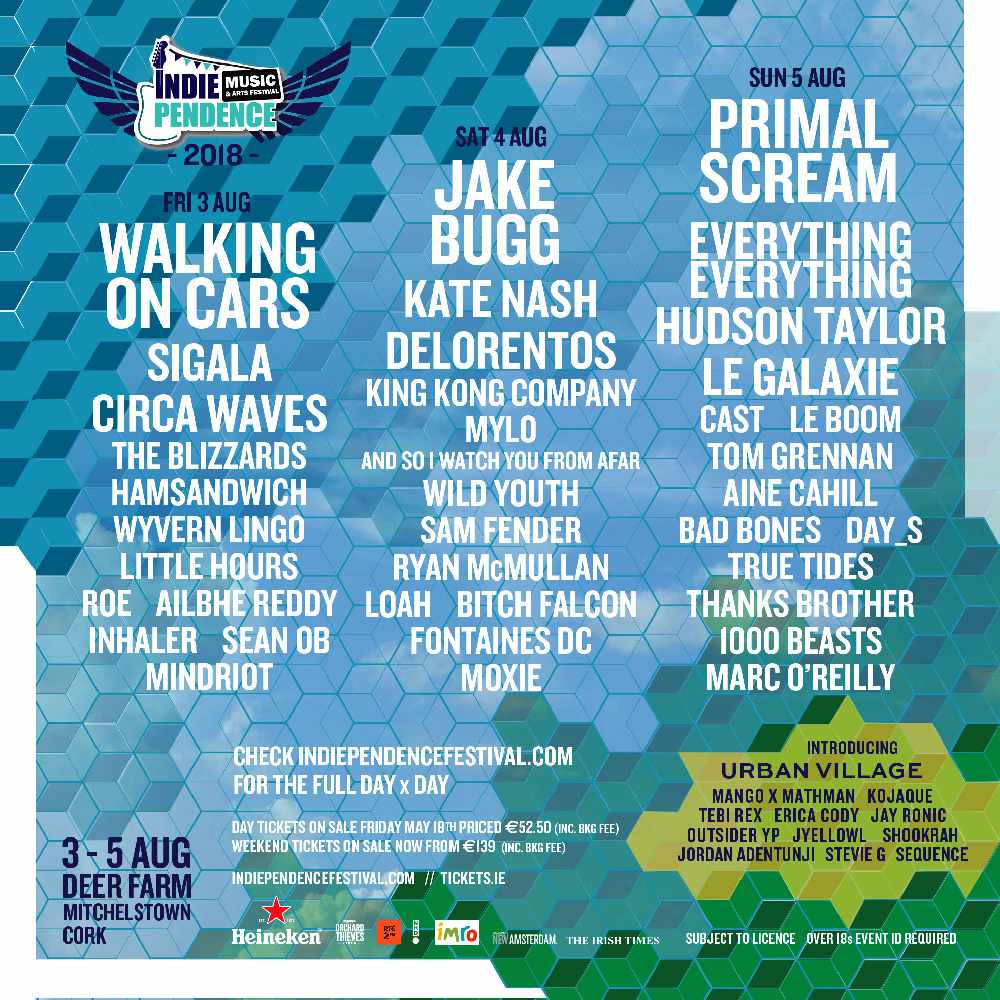 SATURDAY welcomes Indipendence debuts and a double bill of two of the UK's finest indie artists of recent times, the NME and Q Award-winning Jake Bugg and Kate Nash. Complimenting this is some of Ireland's best live talent right now; including Delorentos, And So I Watch You From Afar and King Kong Company. Throw in some of the most precocious young talent out there right now like Wild Youth, Bitch Falcon and Fontaines DC, alongside top festival beats from Mylo and Moxie, and it's the perfect INDIE mix right in the middle of the weekend.
SUNDAY night will welcome one of the greatest indie acts of all time to Deer Farm – Primal Scream. The Mercury Prize winners have released era-defining tunes and top the bill of a powerful Sunday evening that features Everything Everything, Hudson Taylor, Le Galaxie, Le Boom, Tom Greenan, Marc O'Reilly and Cast. Great new music also showcases throughout Sunday from True Tides, Thanks Brother, 1000 Beasts and Aine Cahill.
INDIE's new Urban Village stage is set to bring some of the best contemporary Irish hip hop, RnB, pop and soul with the likes of Mango X Mathman, Kojaque, Tebi Rex, Erica Cody, Shookrah and more, while the INDIE Comedy Stage will be revealed next week.
Day Tickets for INDIE18 remain the same price as twelve months ago and go on sale at 10am this Friday May 18 at only €52.50 (inc booking fee). Weekend Tickets still on sale from €139 (inc booking fee).
More from Entertainment