Pixies Announce Live At The Marquee Gig
Another one to add to the Christmas list!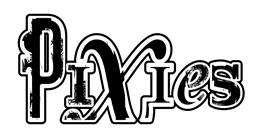 Today, Pixies announced that they will play two dates in Ireland next July, Live at the Marquee Cork on 13 July and Iveagh Gardens Dublin on 14 July 2016. Tickets go on sale this Monday 21 December at 9am.
Having played a 125-date global trek over a 21-month period to support Indie Cindy, its first new album in two decades, Pixies look forward to another world touring schedule in 2016 and 2017. The tour will start in Spain in July where the band - Black Francis, Joey Santiago, David Lovering, and touring bassist Paz Lenchantin – will headline the Bilbao BBK Live festival, and it will include two dates in Ireland, Live at the Marquee Cork on 13 July and Iveagh Gardens Dublin on 14 July.
While Pixies have been acclaimed as the most influential, pioneering band of the late 80s alt/rock movement, having blazed the trail for artists from Nirvana to Radiohead to Pearl Jam, today, a whole new generation of music fans are discovering their iconic "loud quiet loud" signature sound. After five genre-defining studio albums, Pixies disbanded in 1993, and then launched their reunion tour in April 2004, playing to sell-out crowds all over the globe for seven years, a longer period of time than they were a band originally. But writing, recording and releasing new music was something that the band had been wanting to do for a long time, so they secretly booked studio time in Wales for the fall of 2012. Six days into the recording, founding bassist Kim Deal decided to leave the band; Black Francis, Joey Santiago and David Lovering made the decision to carry on, working with a variety of touring bassists, something they'd never done.
The Pixies surprised everyone on June 28, 2013 with the brand new song "Bagboy" ("...a vintage Pixie-ian meld of garage punk and anthemic pop choruses" - Mojo), and then regularly released new songs digitally over the course of the following 10 months. On April 29, 2014, fans could hold in their hands Indie Cindy, Pixies' first full album of new material in more than 20 years, and released 10 innovative music videos, racking up more than five-million views. As the UK's DIY put it, "They're back. They're still brilliant. God save the Pixies."
The Pixies are looking forward to what 2016-17 will bring to the band and their fans.
Tickets priced €53 go on sale this Monday December 21 at 9am and will be available from all usual outlets.
More from Entertainment