The Darkness Are Coming To Cork!
Another new show has been announced for Cork.
UK rock band The Darkness are pleased to announce a headline Cork show at Cyprus Avenue on 25th November 2019. Tickets for the gig go on sale this (Good) Friday and are available from Eventbrite.
The Darkness have announced that they'll release a new album later this year. It's titled Easter Is Cancelled, and it's set to arrive on October 4 via Cooking Vinyl. It'll be the UK outfit's first studio album since 2017's Pinewood Smile.
The Darkness are a British rock band formed in 2000. The band consists of Justin Hawkins, his brother Dan Hawkins, Frankie Poullain and Rufus Tiger Taylor. The Darkness came to prominence with the release of their debut album, Permission to Land, in 2003.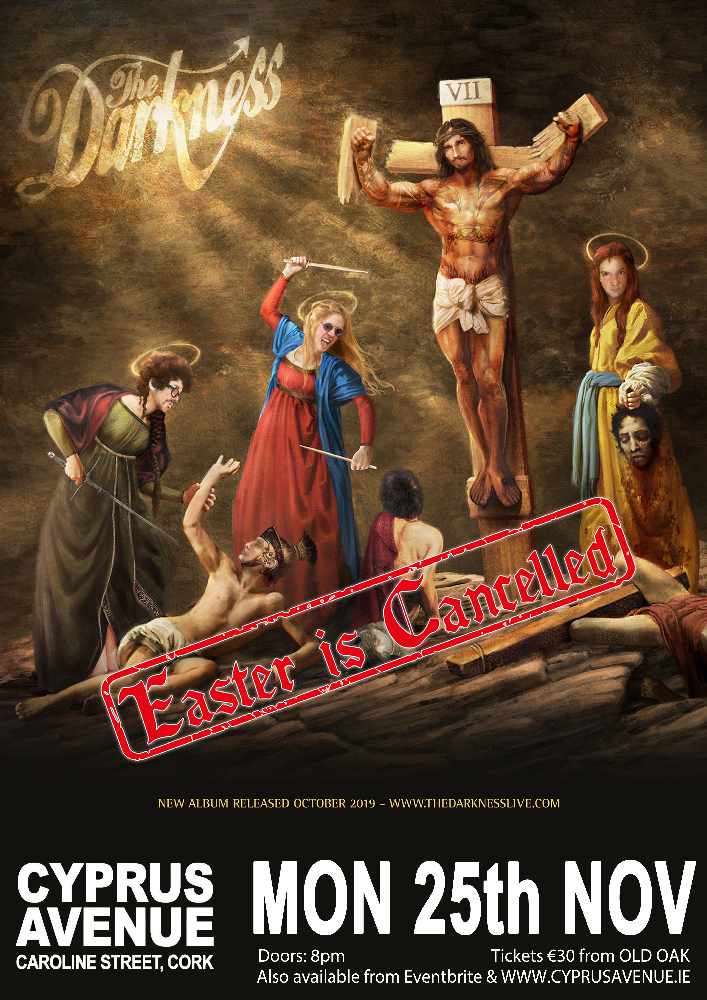 Frontman Justin Hawkins says: "We live in dark times. As power-hungry clowns cast a shadow of despair across this land, our people cower in tumbledown hovels. The birds do not sing and the children do not dance. Hope is crushed. "Where are the heroes that this world needs? Where are the heroes that this world deserves? Cast aside despair, people, for the tide will turn! "We are men in tight costumes and we are ready to fight with every weapon that our forefathers have bequeathed – the guitar axe, the drum hammer, the bejewelled codpiece and the banshee wail of righteous anger. "Nor shall we be cowed by the nay-sayers, nor shall we be bought off by the money lenders, nor gagged by the reeking stench of pious indifference that pours from the orifices of the clown-lords. "Cometh the time, cometh the band. We are The Darkness and we bring you light."
More from Entertainment