Versatile Announce 3Arena Gig
Versatile have announced a 3Arena gig following a sold out show at Live At The Marquee and a huge reception at Longitude.
Versatile are a rap group composed of rappers Eskimo Supreme (the long, angular brown one) and Casper Walsh (the large mouthed, gammy commander blonde) as well as their music maker, Evan Kennedy (the misunderstood genius).
The group will perform their biggest ever headline show at Dublin's 3Arena on 30th November 2019.
Tickets for the show priced from €42.65 will go on sale on 19th July 2020 at 9am at from www.ticketmaster.ie.
Expressing the madness they contracted from inhaling the salt saturated air of Ringsend, Dublin their songs flip from sharp commentaries to colourful narratives of what they see happening around them on a daily basis.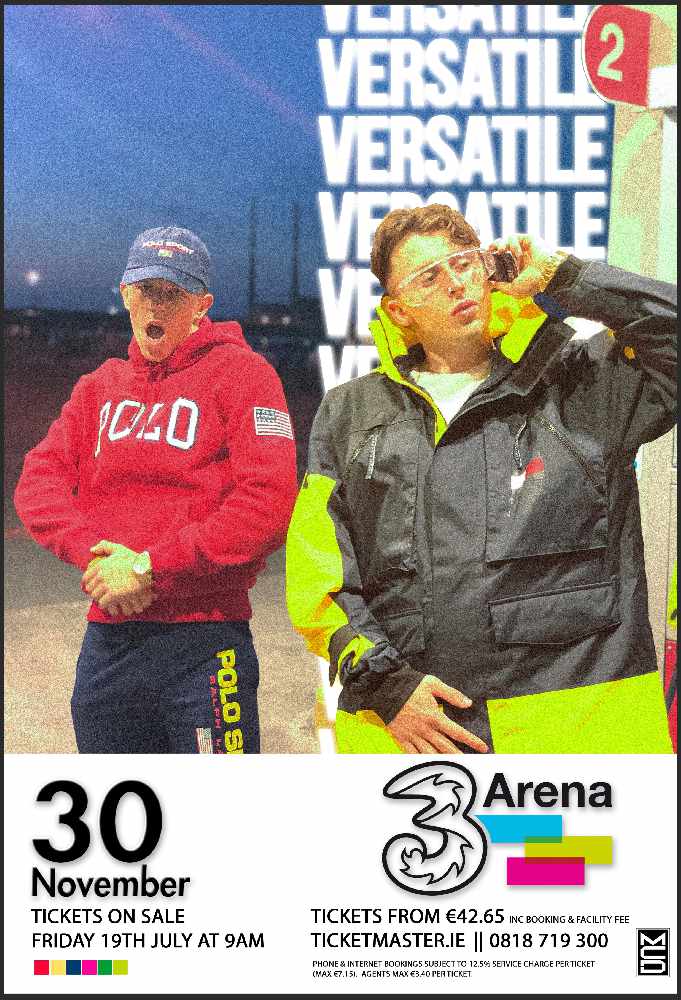 Versatile are as well known for their outrageous music videos which they produce and direct themselves to an ever advancing standard. Each video is created with a distinctive OUTBURST PAL style derived from the scenes they hear in each song.
Versatile first performed in May 2017 at a sold out show in The Grand Social, Dublin. On arrival to the scene they quickly became one of the most in demand artists in Ireland; that summer they played an eclectic mix of festivals including Life Festival, Beatyard and Electric Picnic. Each show was a raging success with audiences pasted to another to catch a glimpse of the madmen of Versatile.
The group have the ability to draw crowds away from international artists at Longitude, and the mass appeal of the group at Electric Picnic where they performed to over 14,000 people at the Electric Arena. During this same time they sold out their 2018 headline show in The Olympia Theatre in under one hour.
More from Entertainment