Young Offenders Star Named In BAFTA Breakthrough List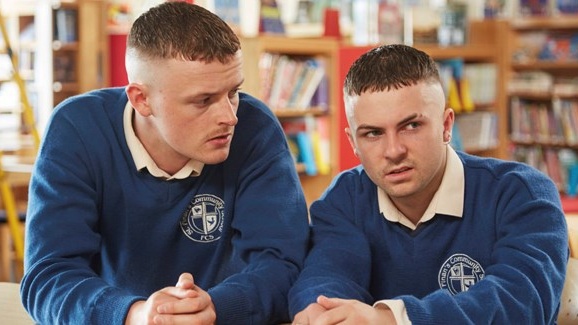 The honourees will be celebrated at a special event on Wednesday 7 November
Chris Walley who plays Jock in The Young Offenders has been included in the list of nineteen breakthrough talents in film, games and television.
Breakthrough Brits is BAFTA's flagship initiative that identifies and supports the next generation of creative talent. Selected by a jury of industry experts after a UK-wide open call for nominations and applications, the 2018 Breakthrough Brits will be supported by BAFTA over the next 12 months as they progress their careers.
Figures who have given support to the 2017 Breakthrough Brits in the past year include: actress Tilda Swinton, actor and producer Brad Pitt, game designer and developer Brenda Romero, actress Oliva Colman, director Tom Harper and game designer Tim Schafer.
Amanda Berry OBE, Chief Executive of BAFTA, said: "We are delighted to announce our 2018 Breakthrough Brits, hugely talented individuals from a range of backgrounds at a pivotal stage in their careers. As Breakthrough Brits reaches its sixth year, it is wonderful to see what our previous Breakthrough Brits have gone on to achieve, and I am so excited to see, with BAFTA's support, guidance and mentorship, what our 2018 honourees will do next."
The full list of BAFTA Breakthroughs are:
Adrienne Law – Games Producer
Annie Price – Presenter
Chris Walley – Actor
Daniel Kokotajlo – Writer/Director
Daniel Lawrence Taylor – Actor/Writer
Ellena Wood – Director
Fodhla Cronin O'Reilly – Producer
Harry Nesbitt – Artist and Game Developer
Jay Armstrong – Game Developer
Jessica Barden – Actress
John Campbell and Katie Goode – Technical Director & Creative Director
Lucy Cohen – Writer/Director
Luisa Omielan – Comedian
Lottie Bevan – Co-Founder & COO
Michael Pearce – Director
Paapa Essiedu – Actor
Ria Zmitrowicz – Actress
Vanessa Whyte – Cinematographer
More from Entertainment