Battle of the Brightest Brains for Breakthrough Cancer Research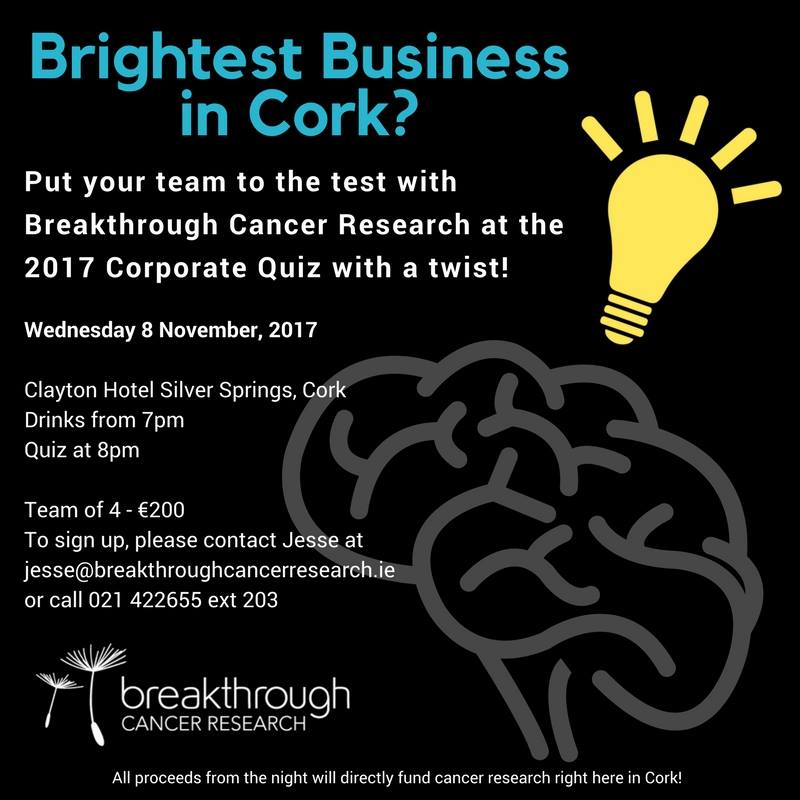 Put your colleagues to the test and be crowned brightest business brains in Cork at the Breakthrough Cancer Research Corporate Quiz on Wednesday, 8, November, at the Clayton Hotel Silver Springs, Cork. This year's teams will be fighting out for the Dermot Desmond Perpetual Trophy as well as other prestigious prizes. The evening will kick off at 7pm with a drinks reception and registration followed by the quiz at 8pm.
Broadcaster Jonathan Healy will be returning again in 2017 as the cleverest Quiz Master and MC on the night. Jonathan is looking forward to welcoming special subject matter specialists who will help him by calling out the questions in their own areas of expertise. Special expert guests include actress, comedian and writer Hilary Rose, who has recently wrapped filming for the new The Young Offenders TV programme, as well as Irish national record holder for Sprint Hurdles, Derval O'Rourke. Teams will also be treated to the hilarious breakfast radio duo, Ray and Jay of RedFM's Breakfast with Ray and Jay and TV3's Southern Correspondent, Paul Byrne.
Jonathan is looking forward to finding out who comes out on top this year, stating "I speak with and about businesses in Cork on my RedFM RedBusiness podcast all the time, but now it's time to find out which business really has all the brains!"
Breakthrough is leading the way with research into cancers with poor prognosis such as ovarian, pancreatic, lung and oesophageal. They have already progressed seven treatments progress from their research laboratory to clinical trial and work closely with multiple hospitals to ensure their research is responding to the needs of patients with cancers that do not respond to conventional therapies.
Breakthrough Chief Executive, Orla Dolan states, "Our annual Corporate Quiz is always a great event and it is so fun to see the bit of competition between the local business and companies here in Cork as we try to find out who really has the brains! The special guests on the night really bring entertainment to the evening and there are some great prizes for the winners! All proceeds on the night will go towards funding cancer research into the poorest prognosis cancers. As we do not receive guaranteed state funding, events such as these provide us with vital funds to continue our research. We hope your company will join us on the night to find out who is the brightest in Cork, 2017."
The event is proudly supported by RedFM who will be on site with their red patrollers on the night. The Clayton Hotel Silver Springs are delighted to lend their support to such a worthy cause are looking forward to welcoming everyone on the night.
A team of four costs €200. For further information about the quiz please see www.breakthroughcancerresearch.ie or contact Jesse at 021 4226655 / Jesse@breakthroughcancerresearch.ie.