Fed By Red: Episode 3 - College Student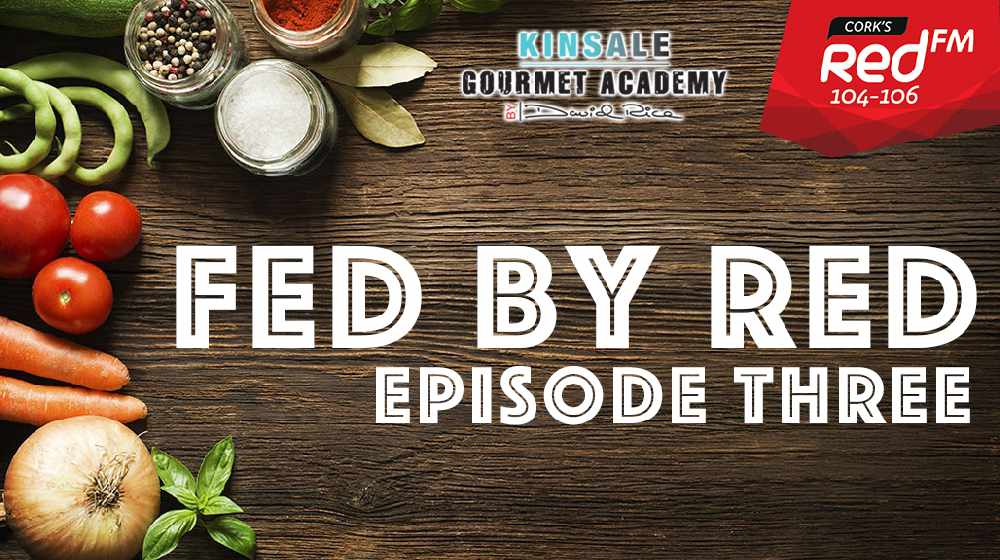 In this episode David visits UCC student Katie O'Riordan and her friendly flatmates. With a limited budget and limited cooking facilities, Katie is looking for help in the kitchen so that she can try to avoid eating as much fast food and takeaways. David will show her how to create chili con carne, fish tacos and burritos.
Black Bean Chili Con Carne
Ingredients serves 4
400g cooked black beans (drained and rinsed in cold water)
1 red onion finely chopped
1 courgette diced
1 red pepper diced
2 spring onions finel sliced
1 carrot grated on a cheese grated
2 garlc cloves finely chopped
½ red chili finely chopped
25g chopped coriander
2 tbsp sour cream
100g grated smoked cheese
100g baby spinach
salt and pepper
olive oil
500ml tomato passatta
¼ tsp cumin
½ tsp mild chilli powder
½ tsp smoked paprika
200g brown rice cooked accorrding to packet
Method
Get your rice cooking first.

Preheat your frying pan and add in the beans and dry fry for 2-3 mins and then transfer to a sieve and leave to rest.

In the same pan add in a small splash of oil, then put in the pepper, courgettes and onions and fry for 2-3 mins and then throw in the garlic, chili and spring onion.

After another minute throw in the beans, followed by the spices and cook on a medium heat for a minute.

Next put in about 200ml water and 500g of passata and simmer the dish for 2-3 minutes. Check for seasoning at this stage and add salt as required.

Just before straining your rice, place the raw spinach into the sieve and drain the rice over this to cook the spinach, then mix the rice through the spinach.

Finally add in the coriander into the chilli and serve it with the rice and sprinkle on the chesse and some sour cream.
Salmon and lettuce tacos with tomato salsa.
Ingredients serves 4
4 x 150g salmon supremes (cut into 4 strips each)
1 tsp cajun seasoning, salt and pepper.
4 heads of baby gem lettcue (torn into cup shapes)
Salsa
I red pepper finely chopped
1 red onion finely diced
250g cherry tomatoes roughly chopped
1 tsp chopped coriander
2 limes juiced
½ red chilli finely chopped
2 spring onions finely chopped
50ml olive oil
salt and pepper
To serve
sour cream
coriander
Method
Chop all the ingredients for the salsa as per recipe and mix together, season and set aside

Preheat a large frying pan and add a splash of oil. Season the fish and dust the salmon with the cajun seasoning.

Add the fish to the pan and fry the fish on a medium high heat for 5 mins and then flip it over and cook for 1 minute on the other side.

Lay all the lettcue leaves onto a large plate and fill each lettcue cup with some salsa.

Place the salmon fish fingers onto of the salsa, sprinkle with some corinder and dollop on the sour cream.
Burrito
To make the burrito in this episode all you need is some wholemeal wraps and the leftovers from the chili recipe. Just add the filling into the centre of the wrap, fold it up and toast it on a non stick frying pan until crispy.