Feel Good Friday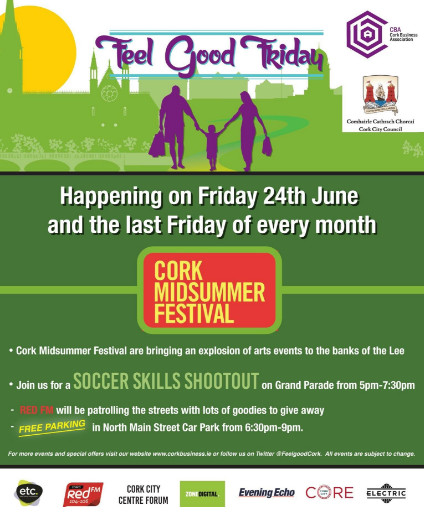 After a hugely successful first month, Feelgood Friday is returning to Cork City again on 24 June.
This exciting initiative, led by Cork Business Association in conjunction with Cork City Council, sees retailers and businesses in the city centre come together to host a series of free events on the last Friday of every month.
Yet again, there will be a festival-like atmosphere in the city, with live music, free finger food, late openings, special offers, free drinks and lots of family fun.
Cork Midsummer Festival are bringing an explosion of arts events to the banks of the Lee. Red FM will be patrolling the streets and will have lots of goodies to give away. Not only that, but there will be FREE parking from 6.30pm to 9pm in North Main Street Car Park.
One of the highlights of this month's event is a fun penalty shoot-out in aid of Cork Cancer Research Centre on Grand Parade where you can test your skills again teams from Cork City FC and Red FM.
Commenting on the success of Feelgood Friday to date, Lawrence Owens, Chief Executive of Cork Business Association, said, "We were blown away by the support for the first Feelgood Friday and hope now to build on that success. Cork City is a really unique shopping destination. Everything is within walking distance and it's a lively and family friendly place to shop, dine and meet. The idea behind Feelgood Fridays is to reintroduce shoppers in Cork to the fun of shopping in the heart of their City. The last Friday of the month also coincides with pay day for many, so people want something to do on that day – and we're hoping Cork City will be top of mind! We are encouraging businesses across our wonderful city to make an extra special effort for their customers for this month's Feelgood Friday, so come along and experience Cork at its best"
Some of the highlights lined up for Feelgood Friday on June 24 include…
Gael Taca will be running a competition on Twitter with goodies to give away
Sheenas Boutique - Everyone who makes a purchase on Feelgood Friday will be entered into a draw for a stunning piece of jewellery
Vibes & Scribes will have a flash sale in our bookshops - with 15% off all children's and teen books as well as 15% off ALL second-hand books
Bus Eireann – first 20 people to call to the Bus Station and say 'Feelgood Friday' will win a leapcard worth €15.00
The Body Shop will offer complimentary makeup lessons and 10% off every purchase
J Barter Travel Can't rely on the Irish weather. Swap your umbrella for a parasol with J Barter Travel and get €50 off your booking! T&Cs apply.
Clarion Hotel - All our Health Club members can bring a friend for free to the Sanovitae Health & Fitness Club. We are offering a 20% discount off all treatments in Essence Spa
11am-5pm: Emmet Place - Cork Midsummer Festival Markets
12pm-6pm: Cornstore – Kids eat free
1pm and 4:30pm: Unitarian Church – The Bed explores Anne Hathaway's turbulent feelings following her husband Shakespeare's death. Tickets €12, book at www.corkmidsummer.com
1pm, 3pm and 5pm: Emmet Place - Backseat will take you on an exciting and unique journey through the lives of eight teenagers. Tickets €5, book at www.corkmidsummer.com
3pm: The Roundy - Twentysomething Marion has realised, all of a sudden, that she's a grown-up. Tickets €10, book online at www.corkmidsummer.com
3pm-6pm: Coqbull – Kids eat free, free balloons for all kids
3pm-9pm: Herlihy's Centra Oliver Plunkett Street and Grand Parade will be giving away a FREE Cadbury's Crunchie with every purchase!
5pm: Lewis Glucksman Gallery – Amanda Coogan presents Don't Push the River
5:30pm-6:30pm: Cornstore – 2 for 1 cocktails, live music from 6pm
5pm-7pm: The Metropole - Antipasti Sample Board and shot of limoncello €5.00 per person
5pm-7:30pm: Grand Parade – Soccer Skills Shootout in aid of Cork Cancer Research Centre
5pm-8pm: Clarion Hotel – All cocktails only €5 each in Kudos Bar. Loads of "crunchies" to give out to all diners
6pm: The Shelbourne – Complimentary finger food
6pm: Granary Theatre - Dark Kingdom is a theatrical experience that exposes the uncomfortably familiar and the gloriously strange. Tickets €15 at www.corkmidsummer.com
6pm-8pm: Soho - Free finger food and music in the bar with Pat Fitz and his jamming band
8pm: The Everyman Theatre – Longing Lasts Longer by Penny Arcade
Tickets normally €20, discount for Feelgood Friday to €10. Book through the festival online box office at www.corkmidsummer.com using the following discount code: arcade16
For a full list of all to see and do in Cork City for Feelgood Friday on 24th June and the last Friday of every month going forward, see www.corkbusiness.ie or @FeelgoodCork on Twitter/Facebook. If your business would like to take part in Feelgood Friday, contact feelgoodfriday@corkbusiness.ie.
Feelgood Friday is proudly supported by Cork Business Association, Cork City Council, Cork City Centre Forum, Core, ETC - the Events, Tourism & Communications Agency, Zone Digital, Electric Cork, The Evening Echo and Cork's RedFM,