List of Cork businesses operating at Level 3 restrictions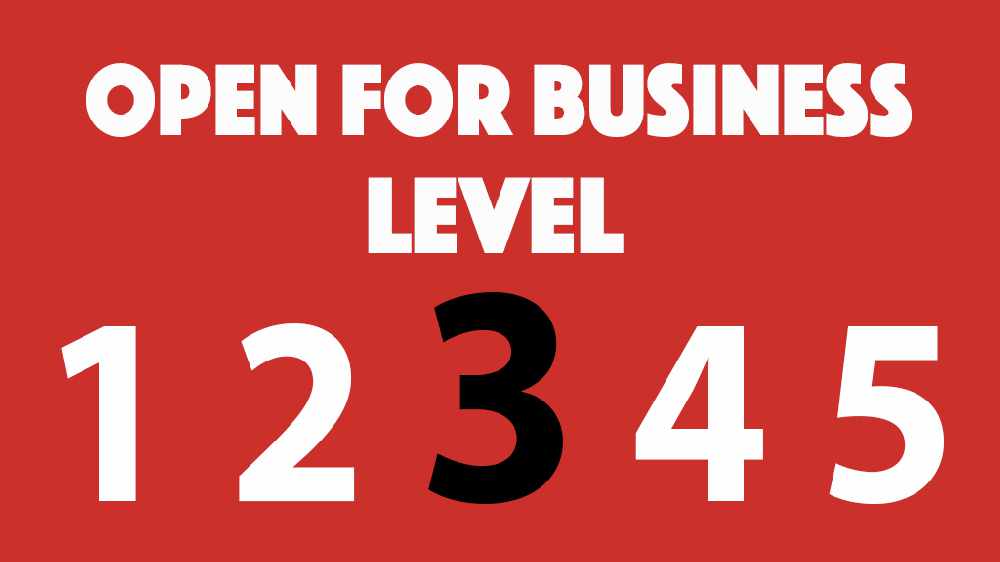 As of midnight tonight, Cork, as well as the rest of Ireland, will enter Level 3 restrictions. This means businesses such as bars, restaurants and cafes will have extra restrictions placed upon them for their services.
We've compiled a list below of businesses that will remain open for outdoor dining or service or for takeaways and deliveries that you can support. Please check with individual businesses on opening hours.
We will update this list as we hear from more businesses!
Tell us about your business here:
OPEN FOR OUTDOOR DINING/ SERVICE
Vicarstown Bar, North Main Street
Priory Cafe, North Main Street
Zambrero, Dennehys Cross
Cafe Atrium, Mardkye Arena
Amicus, Paul Street
14A, French Church Street
Ristorante Rossini, Princes Street
Orso, Pembroke Street
Cracked Kitchen & Coffee, Bandon
Nectar Coffee, Parnell Place
Charlie's Bar, Union Quay (Bar Service with food available from neighbouring establishments)
Cafe Depeche, Washington St & Lancaster Quay
Market Lane, Oliver Plunkett St
Kennedy Bar, Killeagh
Second Wind Bar & Restaurant, Charleville
Sliced, Ballincollig & Parnell Place
Eldon Hotel, Skibbereen
Plaza Bistro, Ballincollig
Rendezvous Bar, Model Farm Road
Oak Fire Pizza, Princes Street and Clonakilty
Hamlets Street Food & Gastro Garden, Kinsale
Union Grind, Union Quay
Naturally Nourished Cafe, Penrose Dock & City Gate Mahon Point
Coqbull, French Church St
Lyla's Kitchen, Buttevant
The Pavilion Cafe, Ballygarvan
An Cumann Tae, Ballincollig
Annie Macs Cafe, Carrigtwohill
The Trawl Door, Ballycotton
Healy's Bar, Ballincollig (Bar Service)
Burnt Pizza, Oliver Plunkett Street
Casanova Gelato, Cork city
BeanTown Cafe, Model Farm Road
Waterloo Inn, Blarney
115 Cafe and Wine Bar, Oliver Plunkett St
Old Oak, Oliver Plunkett St
Cafe 108,Youghal
The Garden Cafe, Blackpool
The Poor Relation Bar and Grocery, Parnell Place (Bar Service)
Dunleas, Blackpool & The Marina
Tara's Tea Room, MacCurtain St
Arthur Maynes, Pembroke St
Crane Lane, Phoenix St
The Floury Apron, Ballincollig
The West Cork Hotel, Skibbereen (Bar Service & Food)
Murphys Rock Bar, Cork (Bar Service & Food)
Celina's Cafe, Kilbrittain
3 Little Piggies Deli, Union Quay
The Alley Garden Bistro Bar, Clonakilty (Bar Service & Food)
Ballyseedy Cafe, Midleton
The Claypot Cafe, Cork Airport Business Park
Corbett Court, Ballyhea (Bar Service)
Cafe on the Lane, Clonakilty
The Old Blarney Post Office Cafe
Hibernian Hotel Mallow (Bar Service & Food)
Celtic Ross Hotel, Rosscarbery
Red Bean Roastery Coffee, Maldron Hotel South Mall
Auld Triangle, Macroom
Tradehouse Central, Ballincollig
Griffins Garden Centre Cafe, Dripsey
Vikkis Wine & Tapas Bar, Sunday's Well
White House, Kinsale
Pompeii Pizza, Cork
Pan Cafe and Restaurant, Midleton
Scoozis, Cork
The Anglers, Carrigrohane
Cork Coffee Roasters
Ristorante Romano, Carrigaline
Tom Barry's, Barracks Street
Bitesize Cafe, Ballincollig & Midleton
Lynchs Bakery & Coffee Shop, Macroom
Beechinor's Coffee Bean, Charleville
Iyer's, Cork
The Old Creamery Restaurant, Kilcrohane
Bean and Leaf, Grand Parade
O'Riordans Bar and Restaurant, Coachford
The Sibín Bar & Restaurant, Baltimore
Mick Burke's Pub, Buttevant
Nosh + Coffee, Ballincollig
Franciscan Well Bar and Brewery, Cork
Nando's, Cork city
Christy's Bar at Blarney Woollen Mills
The Old Creamery, Kilcrohane
Costigans Pub, Washington St (Bar Service)
The Arches Bar, Mallow (Bar Service)
Tonys Bistro, North Main Street
Insomnia Cafe, Cobh
The Heron Café, Fermoy
OPEN FOR TAKEAWAY OR DELIVERY
O'Flynns Gourmet Sausages
Pizzeria San Marco, Midleton
Priory Cafe, North Main Street
Frank & Honest Cafe Charleville
Crust Cafe, MacCurtain Street
Cosy Cafe, Kinsale
Marcello's of Douglas
Casey's Bar & Restaurant, Clonakilty
Zambrero, Dennehys Cross
La Trattoria, Midleton
Amicus, Paul Street
14A, French Church Street
Wimpy, Fermoy
The Old Walls Bar & Restaurant, Liscarroll
Ristorante Rossini, Princes Street
Royal Palace Chinese, The Lough
Orso, Pembroke Street
Ramen, Fermoy
Holy Smoke, The Mardyke Complex
Claddagh, Blarney
Jake's Cakes Restaurant and Bakery, Bandon
Cracked Kitchen & Coffee, Bandon
Bayleaf Bistro, Bandon
Nectar Coffee, Parnell Place
Thali Nepal Restaurant, Maylor St
Choices Cafe, Mallow
Cafe Depeche, Washington St & Lancaster Quay
Market Lane, Oliver Plunkett St
Bagel Bar Coffee House, Mahon Point Shopping
Raj Indian, Fermoy
Second Wind Bar & Restaurant, Charleville
Sliced, Ballincollig & Parnell Place
Eldon Hotel, Skibbereen
Plaza Bistro, Ballincollig
Cafe Ed, Fermoy
Vicarstown Bar, North Main St
Rendezvous Bar, Model Farm Road
Bere Island Hotel (Fri & Sat)
Angel's Cafe, Rathcormac
Old Imperial, Youghal
Nadd Pub, Nadd
Oak Fire Pizza, Princes Street, Bandon and Clonakilty
Bacco Restaurant, Ballincollig
Waterloo Inn, Blarney (Fri/Sat/Sun)
Eco, Douglas
Celina's Cafe, Kilbrittain
Hamlets, Kinsale
Kilkenny Shop Cafe, Shanagarry
Cafe Gusto, Washington Street
Ali's Kitchen, Paul Street
Union Grind, Union Quay
Ellen's Kitchen, Cobh
Malay Kitchen, Cork City & Kinsale
Naturally Nourished Cafe, Penrose Dock & City Gate Mahon Point
Coqbull, French Church St
Sea Salt, Cobh
Lyla's Kitchen, Buttevant
Dockland, Cork City (Fri/Sat)
The Pavilion Cafe, Ballygarvan
An Cumann Tae, Ballincollig
Annie Macs Cafe, Carrigtwohill
The Trawl Door, Ballycotton
The Priory, Riverstick
Blarney Pizzeria
Elm Tree, Glounthaune
Istanbul Restaurant, Oliver Plunkett Street
Burnt Pizza, Oliver Plunkett Street
Buckley's Cafe, Kanturk
Osaka Japanese & Thai Cuisine, Cork city
Casanova Gelato, Cork city
BeanTown Cafe, Model Farm Road
Aroma Restaurant, Emmet Place
Wabisabi Sushi and Noodle Bar, Oliver Plunkett St
McDonalds Blackpool Shopping Centre
Waterloo Inn, Blarney
115 Cafe and Wine Bar, Oliver Plunkett St
Old Oak, Oliver Plunkett St
The Cottage Community Cafe, Mahon
Il Padrino Restaurant, Cook St
Trawler Boyz, Ballycotton
Sinead's Cafe, Private Clinic, CUH
Poppabills, Bakers Rd Ballyphehane
Cafe 108, Youghal
The Garden Cafe, Blackpool
M&S Cafe, Cork
Dunleas, Blackpool & The Marina
Soba Asian Street Food
Subway, Ballincollig
Tara's Tea Room, MacCurtain St
Vanilla & Co Cafe, Cook St
Greg's, Macroom
Shake Dog
AMT Coffee, Kent Station & Cork Airport
The Floury Apron, Ballincollig
The West Cork Hotel, Skibbereen
Rebel Amigos, Washington St
Roasted Road Coffee, Ballincollig
Murphys Rock Bar, Cork
Jack Doyle's, Cobh
3 Little Piggies Deli, Union Quay
Gallo and Galetti, Wilton
The Alley Garden Bistro Bar, Clonakilty
Ballyseedy Cafe, Midleton
The Claypot Cafe, Cork Airport Business Park
Kall & Dyyne, Millstreet
Metropole Hotel, MacCurtain St
Wok Inn, Carrigaline
Cork International Hotel
Cafe on the Lane, Clonakilty
The Old Blarney Post Office Cafe
Hibernian Hotel Mallow
Dino's
Antonio's Ristorante, Ballydehob
Celtic Ross Hotel, Rosscarbery
Red Bean Roastery Coffee, Maldron Hotel South Mall
Restaurant Chestnut, Ballydehob
Auld Triangle, Macroom
Da Mirco Osteria, Cork
Tradehouse Central, Ballincollig
White Rabbit BBQ, MacCurtain St
The Clonakilty Hotel
Griffins Garden Centre Cafe, Dripsey
Vikkis Wine & Tapas Bar, Sunday's Well
White House, Kinsale
The Montenotte Hotel, Pure Cork Afternoon Tea
Aherne's Seafood Restaurant, Youghal
The Beer Garden, Turners Cross
Fry Guys, Mobile food truck operating between East Cork & Cork City
Lj's Takeaway, Dromahane
Pompeii Pizza, Cork
Paddy The Farmers, Cork
Pan Cafe and Restaurant, Midleton
Springfort Hall Hotel, Mallow
The Orchid Restaurant, Buttevant
Happy Grillmores, pop-up Redbarn Beach, Youghal
EATin'IT-Italian Pizzeria, Blarney
Subway, Midleton
Cork Coffee Roasters
Ristorante Romano, Carrigaline
Tom Barry's, Barracks Street
Courtmacsherry Hotel - Yellow Lemon Pea Food Truck open at weekends
Bitesize Cafe, Ballincollig & Midleton
Lynchs Bakery & Coffee Shop, Macroom
Yumm Café, Kanturk
Beechinor's Coffee Bean, Charleville
Iyer's, Cork
The Old Creamery Restaurant, Kilcrohane
Bean and Leaf, Grand Parade
O'Riordans Bar and Restaurant, Coachford
The Sibín Bar & Restaurant, Baltimore
Nosh + Coffee, Ballincollig
Franciscan Well Bar and Brewery, Cork
Puccino's Kiosk, Cork Bus Station
Gourmet Pantry, Kinsale
Prime Café & Bakers, Paul St Shopping Centre
Nando's, Cork city
Castle Hotel, Macroom
The Old Creamery, Kilcrohane
The Globe Cafe, Mallow
Cafe Bia, Kanturk
Tonys Bistro, North Main Street
Mill Wheel Bistro, Midleton
KC's, Douglas
Cru Wine Bar, Kinsale
The Heron Café, Fermoy
OTHERS THAT ARE OPEN FOR BUSINESS
Tom Durcan Meats, The English Market
Slimming World Fairhill/Farranree
Footgolf Cork
Billy Mackesy's Douglas Village Foods
Adventurepark @ Kartworld
Star Seafoods
Douglas Yoga Rooms (Classes Online)
Fitzpatricks Foodstore
O Crualaoi Butchers, Wilton Shopping Centre
Slimming World Midleton
West Cork Connect Bus Service
Elite Sports Recovery LTD (Individual bookings only)
Conor O'Regan Sports Injury Clinic and Personal Training, Ballymacthomas