3 Stand Outs from the Charlotte Tilbury Hot Lips Collection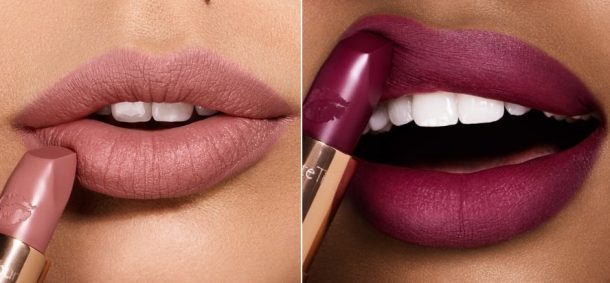 There are certain beauty products that you will have to prise from my cold hands. These are the products that I would save from a burning building (you can see some of my absolute favourites here but please note this article contains pictures of a topless Joe Manganiello in a fireman's uniform so if you spontaneously combust, I take no responsibility for that).
And I suspect a new launch is about to make its way to that hallowed holy grail ground. Charlotte Tilbury has just launched a 12-strong collection of lipsticks, each one created in collaboration with one of Charlotte's famous mates. So if you're wondering what Miranda Kerr, Nicole Kidman, Kim Kardashian, Poppy Delevingne, Helena Bonham Carter, Carina Lau, Laura Bailey, Salma Hayek, Cindy Crawford, Liv Tyler, Emily Ratajkowski and Kate Bosworth have in common, it's this Hot Lips collection.
The shades range from nudes to punchy colour pops, with ten of the 12 having a matte finish (Penelope Pink and Nude Kate both have a slight sheen to the finish).
All the bullets have that square-angled tip that is designed to mimic a lip brush so if you've used a Charlotte Tilbury lipstick before, you'll know if you like this applicator. I love the entire packaging; it passes the 'clunk' test.
Check out all twelve shades, and our top three, over on Beaut.ie.