These are a Few of Our Favourite Things!
Over the past few months, a lot of lovely lotions and potions have dropped into our laps. Some we tried, tested and threw away but others have joined our makeup bags and cupboards for good. So, without further ado, let's just go through 'em all!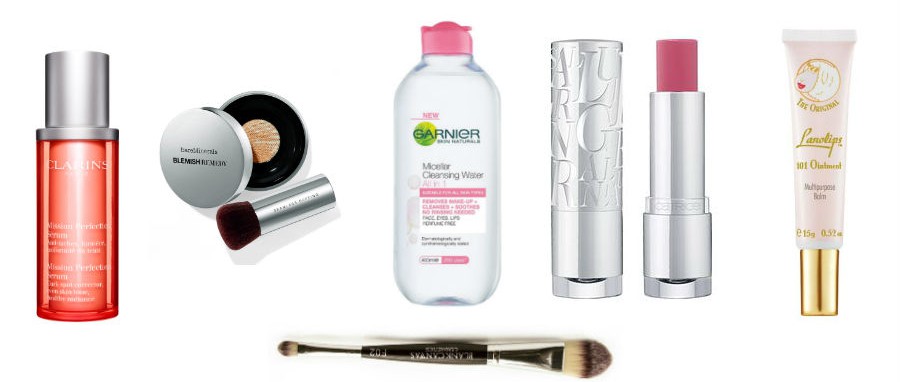 · Garnier Micellar Water
Because my foundation is SO thick, I triple cleanse at night and the first step is micellar water. It has to be, just to get that first layer off (then I use an oil cleanser and then a normal cream cleanser, fyi). While I think that Bioderma's original micellar water is the best, I love Garnier because of the value. The bottles are huge and really reasonably priced.
· Blank Canvas Double Sided Flat Brush
I have only recently started using brushes to apply foundation. Shocker, I know. I have tried a few different types over the last few months and this one is definitely my favourite and it's down to it's double sided-ness. I pat my foundation in rather than brush it and I love the smaller end for getting into those niggly areas around the nose and eyes. The larger side is great for blending.
· Clarins Mission Perfection Serum
Being honest, I never saw the point of serum really. The ones I've tried just didn't do a anything for me. This does. Perhaps it/s because I am applying it properly now (by patting it rather than smearing it like I previously did) although, no. It's just good. I can actually see a difference. It brightens my skin and is a brilliant pick me up when I've only got a few hours sleep.
· BareMinerals Blemish Remedy
This is the powder / foundation that I keep on hand all day. It is so good at evening out my uneven skin tone and blurring my massive pores. Some people might be able to wear it alone, but because my face is craggier than the moon I wear it over my foundation for that 'airbrush effect'. I know that's a term that is thrown about a lot these days but the amazing brush that matches it really gives good blur.
· Lanolips 101 Ointment
I got a tube of this a few months ago and even though I use it frequently (it's a handbag staple) it's still going. It's of the ilk of Elizabeth Arden 8 Hour Cream but much cheaper. I had a gruesome breakout last week but one dab of this stuff stopped those suckers before they became full blown zits! It's meant for dry skin really, but it tackles those nasty blemishes too. Hurrah!
· Catrice Alluring Reds Lip Colour & Care
The Lanolips ointment is actually primarily a lip balm and it is gorgeous on the lips – but my autumn staple has been the Catrice Alluring Reds Lip Colour & Care. Unfortunately it's in a Limited Edition collection so it won't be around forever but for now, it's my go to lip shtuff. It's soft, balmy (not all lip care products are!) and the colour is nice and autumnal. It won't suit everyone because of its sort of orangey tint – and I'm not sure it even suits me – but the packaging is lovely and it does a nice job of hydrating me ole smackers.
Funnily enough, this time last year we wrote a list of beauty staples that are permanently in our cosmetic arsenal. Head on over to Beaut.ie to take a look!