Give Me A Break Terms & Conditions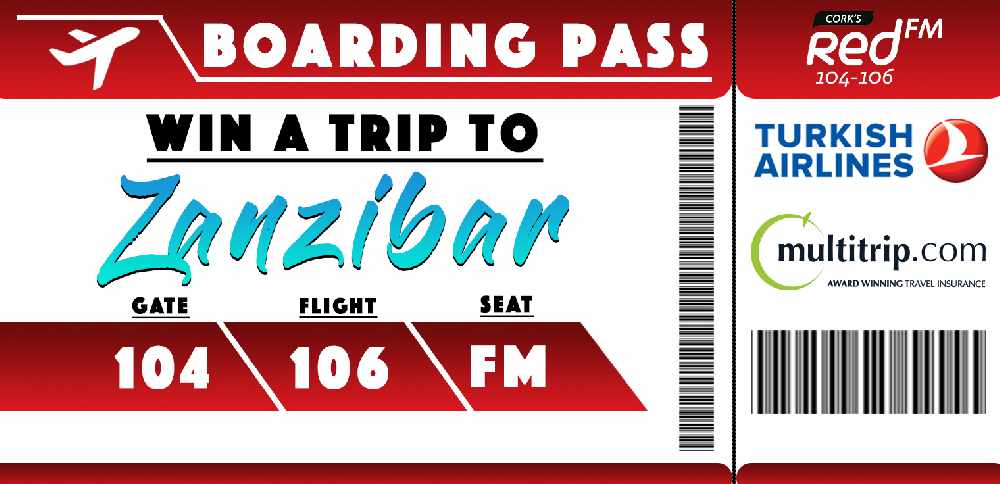 Prize is for entry to the Final of the RedFM Zanzibar Promotion
· The Grand final will take place on Friday 14th of April and finalists must make their way to the venue at their own expense
· The Prize includes;
Return flights for 2 from Dublin to Zanzibar

7 nights stay at The Bluebay Beach Resort & Spa on an All-Inclusive Basis

All meals and drinks included

Great choice of activities including windsurfing, scuba diving & snorkelling, beach volleyball, tennis, premium spa experiences and more!

Return VIP Luxury Transfers

A Private Half Day Stone Town Tour

Multitrip.com Travel Insurance policy
· Prize must be booked directly with Multitrip.com by 23rd of April 2017 - no extension will be permitted.
· Flights are economy tickets
· Prize is subject to advance booking & availability.
· Prize is non - refundable, non-transferable, and non-endorsable. It holds no cash value.
· Tickets must be used by winner and 1x companion travelling together in both directions.
· Travel is permitted between the months of April & December 2017 but no further extensions will be permitted.
· Travel dates must be requested a minimum of one month before intended travel dates.
· Please note blackout periods apply and are subject to confirmation by Turkish Airlines at the time of booking. Please advise 2-3 different travel dates.
· Blackout dates include July, Public Holidays, Christmas, New Year and the days in between.
· With regards to the VIP Transfers and the Private Half Day Stone Town Tour, they are not valid of public holidays and prior arrangements/ booking must be made by the prize winner with the hotel.
· No changes will be permitted once tickets have been booked and issued.
· It is the prize winners responsibility to ensure all passport & visa (if required) are valid for travel
· Frequent Flyer miles do not apply to this transportation.
· Your booking will be made on the understanding that in the unlikely event of an over booking at the hotel, priority will be given to full revenue bookings. You will be offered alternate dates
· Spa treatments may incur extra charges outside of the prize, which are the responsibility of the prize winner.
· Multitrip.com Travel Insurance Policy is an Annual Worldwide Premier Policy for 2 people.
· Any requested upgrades or changes to the stated holiday prize will be at the winner's own expense.
· Competition is open to Irish residents only.
· Entrants and the accompanying passenger must be aged 18 years or older.
· Failure to avail of this trip for any reason whatsoever does not entitle the winner to an alternative holiday or a cash prize.
· Prize money is payable to the prize winner only, as part of this overall prize. The prize must be accepted as a whole or will be forfeited in its entirety.
The prize must be taken and travel completed as per the dates of the prize outlined above.

If the prize is not claimed within the specified time limit the prize will be forfeited.
· Income taxes (if any) paid on the value of this prize, or any other applicable surcharges, shall be the responsibility of the winner, parent or legal guardian.
· Winner and accompanying persons are solely responsible for any special visa requirements and medical vaccinations/other recommended medical requirements.
· It is recommended that you contact your local GP or a travel doctor for advice on vaccinations and travel health. Any costs incurred as a result will be at the winners' own expense.
· Winner and guest must hold valid passports (valid for at least 6 months beyond the return date for the trip).
· Winner and guest are solely responsible for completing all documentation (electronic or other) required in advance of travel/entry and are solely responsible for paying any associated fees.
· Winner and guest are solely responsible for any duty which must be paid on goods purchased abroad upon their return to Ireland.
· Any costs incurred additional to the prize package elements listed (e.g. telephone charges, room service, excursions, etc.) will be at the winner's own expense.
· Initial Names given as prize-winners cannot be changed, names must be furnished as per passport. Any additional changes or charges as a result of name changes after the prize has been booked will be the sole responsibility of the prize winner.
· The competition winner agrees to a promotional photo shoot and for usage of such in press releases, PR events and any media events associated with this prize. Both Multitrip.com & Turkish Airlines reserve the right to this.
· Turkish Airlines & Multitrip.com reserve the right to change desired dates of trip
This prize excludes Turkish Airlines & Multitrip.com employees and their immediate families, their agencies or anyone else professionally associated with this promotion.
ALL USUAL REDFM TERMS & CONDITIONS ALSO APPLY