Don Your Denims For Genes Day 2015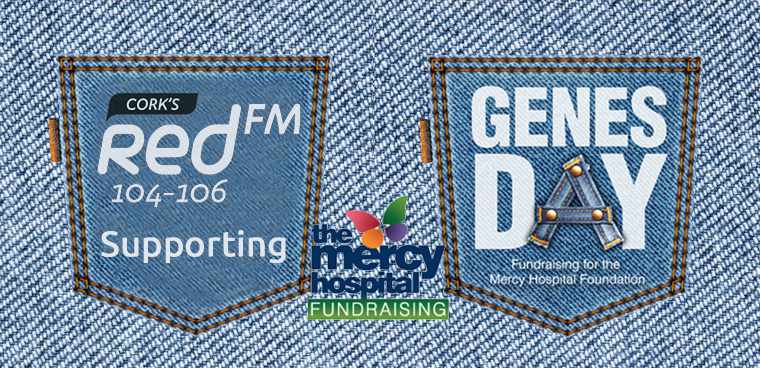 By donning a pair of your favourite jeans, or getting involved in a denim themed event, you will help to raise funds that will be used to test the genetic make up of bowel cancer tumours to predict the likelihood of recurrence of the disease for patients who are undergoing treatment.
Led by Dr Derek Power, Consultant Oncologist at The Mercy University Hospital, funds raised through Genes Day will be used to predict the risk of recurrence of bowel cancer for patients who are being treated for the disease by performing a simple Genetic Test called Oncotype Dx. The Mercy will be the first hospital in Europe to carry out such a study which will enable personalised cancer treatment for patients with bowel cancer, helping them and their doctors to make more informed decisions about whether or not to pursue additional treatment, such as chemotherapy and ultimately lead to personalised treatment plans for Bowel cancer patients.
Dr Power explains "The fundamental problem with everything to do with cancer is genetic. We are very excited to be embarking on genetics research to help patients predict their risk of cancer and predict benefit from treatment (from chemotherapy) for cancer. Bowel Cancer is currently the second most common cancer in Ireland, and is prevalent in both genders, in particular in those in their mid to late 60s. We estimate that we will carry out three Oncotype Tests per month over the next 18 months."
He continued "I'm urging the people of Cork and Munster to hold a Genes Day fundraiser on October 16th to advance the future of cancer care in the region, to affect real change, and to help more people to battle cancer successfully. None of us know when we could be affected by cancer and may need these services for ourselves or family members."
The Mercy Hospital Foundation is inviting people from all walks of life to join in the fun on October 16th, so whether you're planning a casual work day in your jeans, a blue bake sale, a double denim fashion show, or a 'jeanius' quiz, there's a way to get involved. RedFM is the official media partner for Genes Day 2015, and people are encouraged to tune in for regular updates on events and activities. To host your own Genes Day event, simply register at www.mercyfundraising.ie.