Check out this brilliant flashmob disguised as a fire drill at Colaiste Mhuire, Cobh!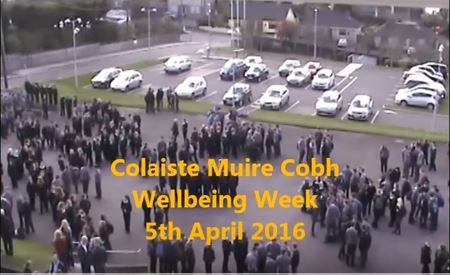 As a fire drill brought everybody out to the front of the school, none of the teachers or students were expecting what followed!
Below is a flashmob created and performed by the students of Colaiste Muire, Cobh, Co. Cork for Well being week in the school. Disguised as a fire drill, many of the students were left bewildered as 'Dont Stop Me Now' echoed across the school grounds and a number of students started the routine. What resulted was a spectacular visual performance, which lifted the spirits of the entire school community!
We also set up a website http://www.chillaxteens.com/ based around promoting a positive mental health both mentally and physically for teenagers.
The flashmob created a great atmosphere around the school and it built a great buzz amongst students and teachers!
Good work guys, and great moves!
Tune into Local Legend this evening after 6 on Dave Mac's Drive to hear from the teacher about the idea behind the flashmob!
More from Entertainment