Ed Sheeran Announces New Collaborations EP
Ed Sheeran has announced a brand new Collaborations EP.
Ed Sheeran says – "Before I was signed in 2011, I made an EP called No.5 Collaborations Project. Since then, I've always wanted to do another, so I started No.6 on my laptop when I was on tour last year. I'm a huge fan of all the artists I've collaborated with and it's been a lot of fun to make. No.6 Collaborations Project will be out everywhere on 12 July. It's available to pre-order from midnight tonight local time and my song with Chance the Rapper and PnB Rock will be out everywhere at the same time x"
The news of Ed's No.6 Collaborations Project and imminent Chance the Rapper and PnB Rock collaboration follows the release of "I Don't Care" with Justin Bieber, which shot straight to No.1 in the UK and Ireland ; it is on course to cement the top spot for the second consecutive week.
The rest of the collaborations on the EP remain a secret for now but we have got a tracklisting of what looks like 15 new songs from the singer-songwriter.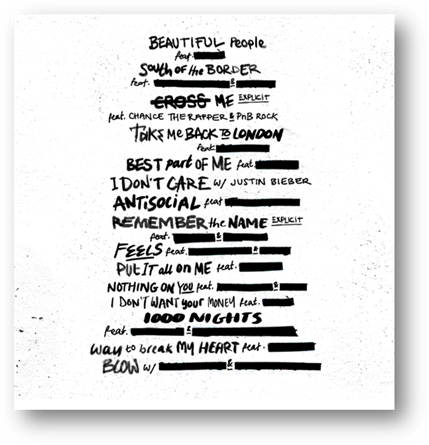 More from Entertainment