Here's Everything You Need To Know If You're Heading To Post Malone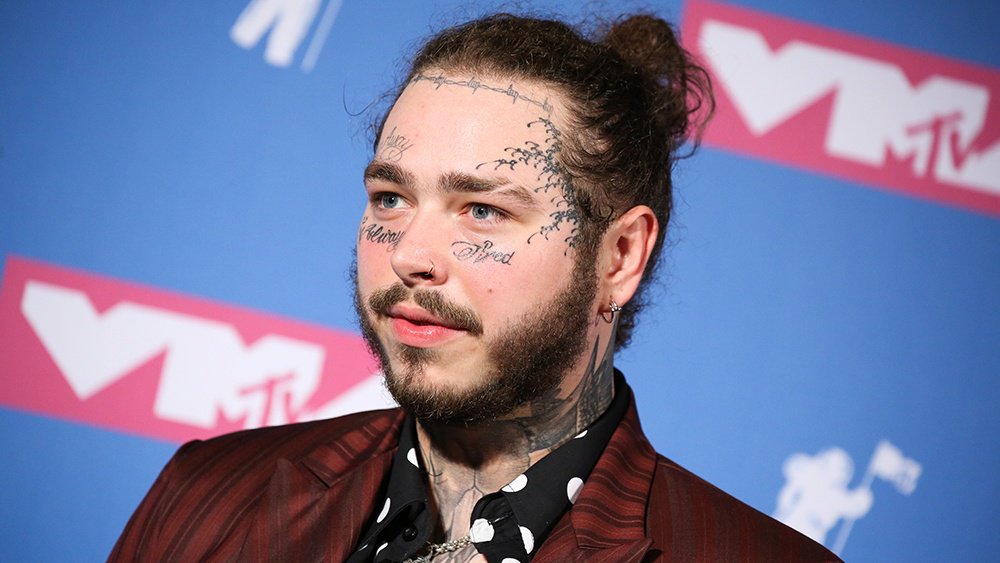 If you're heading to Post Malone, here's everything you need to know!
DOORS 18.00
SAINt JHN 18.30
TYLA YAHWEH 19.45
POST MALONE ON-STAGE 20.45
PLEASE NOTE TIMES ARE SUBJECT TO CHANGE.
EARLY QUEUING WILL NOT BE PERMITTED.
IMPORTANT: NO QUEUING ALLOWED PRIOR TO GATES OPENING
NO overnight / early queuing allowed before the concerts.
If patrons do turn up they will be turned away at restricted area points around the Stadium.
Queuing in streets around the Stadium will cause disruption to local residents and we appeal to patrons to heed this advice and respect the community living in the vicinity of the stadium.
AGE RESTRICTIONS
• All Under 16s attending the concert MUST be accompanied at all times by a parent or guardian over 18 years old.
• Under 14s are not permitted on the pitch.
• IMPORTANT: The promoter will have strict monitoring in place at all entrances and throughout the venue and will operate a Zero Tolerance policy and reserve the right to refuse admission without a refund to anyone who does not comply with the event age polices.
• Any adult accompanying an under 16 year old will be asked to sign an agreement to be responsible for them for the duration of the event and will be responsible for their wellbeing and safety so you will need to be with them for the duration of the event to guarantee this. An adult may only sign in for four minors.
Should you have any queries in advance regarding the policies or require any assistance please email the promoter: customercare@mcd.ie
ALCOHOL POLICY
STRICT MONITORING will be in place at all entrances and throughout the venue and the promoter reserve the right to refuse admission or remove anyone from the venue without a refund anyone who is perceived to be intoxicated and or engaging in anti-social behaviour
• An Garda Síochána will operate a ZERO TOLERENCE approach to the possession and drinking of alcohol in public places.
• Please be advised alcohol drinking policies will be strictly enforced and it is concert goers responsibility to be able to lawfully prove their age to purchase alcohol
ACCEPTABLE VALID ID:
Official Passport
Official Garda Age Card - www.agecard.ie
Photo Driving Licence
APPROACH ROUTES
THE RDS IS SITUATED IN A RESIDENTIAL AREA. WE WOULD APPEAL
TO ALL FANS TO RESPECT THE LOCAL COMMUNITY BY NOT LITTERING, NOT ENGAGING IN ANTI-SOCIAL BEHAVIOUR AND BY NOT PARKING ILLEGALLY.
RED ROUTE: Gold Circle, Anglesea Stand - Blocks C – E, Grandstand - Blocks F – J. ENTER VIA SIMMONSCOURT ROAD
YELLOW ROUTE: Pitch, Accessible Tickets. ENTER VIA MERRION ROAD
BLUE ROUTE: Pitch, Anglesea Stand - Blocks A – C, Grandstand - Blocks K – N. ENTER VIA ANGLESEA ROAD
SEARCH POLICY
IMPORTANT: Searching is a condition of entry to protect your safety and that of others. Strict security checks will be in operation. Due to increased security measures we strongly advise you allow sufficient time to get through security checks to gain entry to the venue in a safe and timely manner. No alcohol will be permitted into the concert venue.
• Patrons are especially advised not to bring backpacks or large handbags as you may be refused entry or experience delays on entry. A4 size bags or smaller will only be permitted. See www.mcd.ie for full details.
• There is NO cloakroom service available.
• Glass or cans, umbrellas, alcohol, garden furniture, selfie sticks, food or drink will not be permitted. (Full list of prohibited items on www.mcd.ie)
• No professional cameras or cameras with a detachable lens, video cameras & audio recording devices, iPads or GoPros.
TRANSPORT
Please plan and organise your transport. We encourage all fans to walk, bike, or use public transportation to the show. Download EvntzApp (www.evntz.app) for all the latest event transport information.
DUBLIN BUS
• If travelling by Dublin Bus to the event, it is strongly advised that you get off at the following Bus Stops:
• 415 Pembroke Road opposite Embassy of United States of America (routes serving this stop are 120, 18, 4, 7 and 7a)
• 483 Merrion Road opposite British Embassy (routes serving this stop are 4, 7 and 7A) For further information visit http://www.dublinbus.ie/
DART
The DART service operates from the City Centre to Ballsbridge. Lansdowne Station and Sandymount Station are approximately a 5 minute walk from the RDS www.irishrail.ie
COACHES
For Coach services and bookings download EvntzApp or go to www.evntz.app
CAR PARKING
For car parking info download EvntzApp or go to www.evntz.app. If you drive, please carpool. Allow at least an extra 2 hours travel time to and from the venue.
For any Customer Care or Accessible queries please contact MCD Productions in advance via email: customercare@mcd.ie
CREDIT CARD COLLECTIONS / GUEST LIST
RDS Main Hall off Merrion Road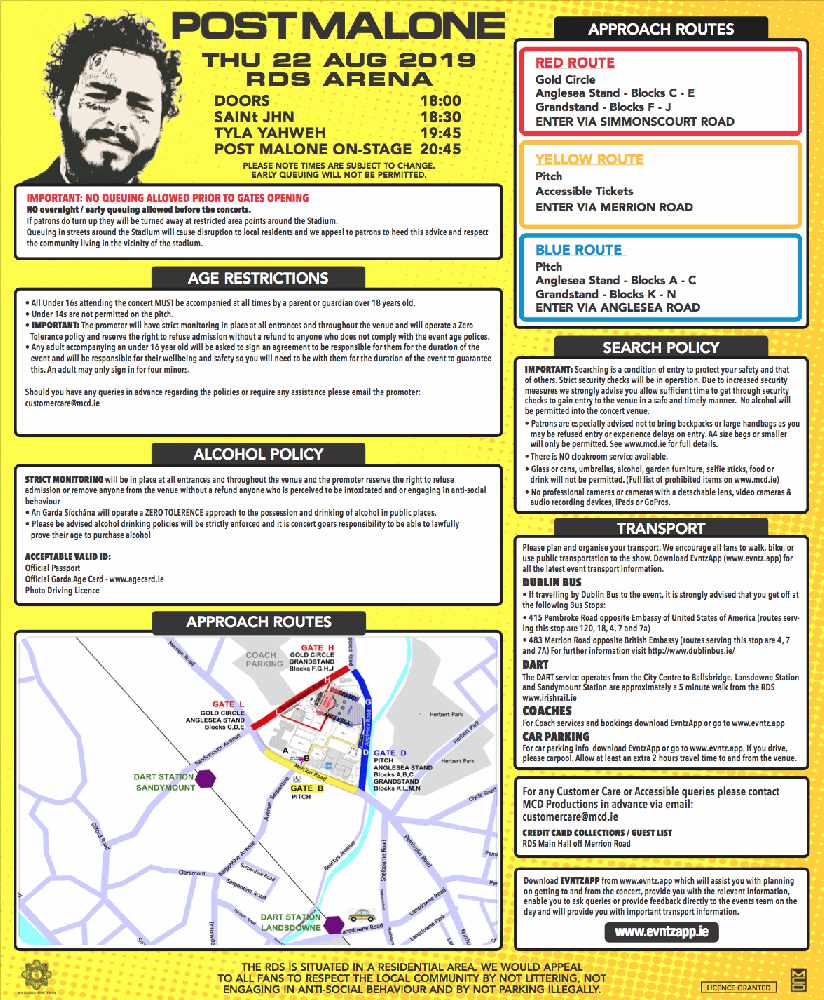 More from Entertainment