The Decades Festival Returns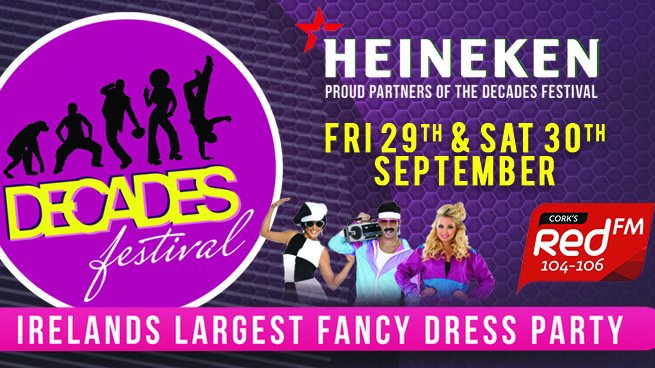 Cork's RedFM are proud media partners for the Decades Festival.
The Decades committee are planning this year's event for the Friday 29th Saturday 30th of September.
The date will ensure a greater audience for the festival, with the summer holidays over, the colleges back and people back into a regular routine after the summer. This will ensure the Decades remains Ireland's largest fancy dress party attracting consumer into participating licensed outlets to enjoy the music and giveaways in house. This year the individual outlets can chose the decade they wish to celebrate. Each participating outlets receives a kit of promotional giveaways for drinkers and the festival is supported by Heineken Ireland.
Last year there were a record number of outlets and the plans are in place to increase this number of participating outlets to over 50 licensed outlets. Cork Opera House will also be involved again on the Saturday night. Many of the venues will have late night extensions over the weekend so people can enjoy moving from outlet to outlet over the weekend.
The festival is supported by the Cork Vintners Federation of Ireland and another boost to the city centre trade. The festival also looks to raise money for a nominated charity, last year the nominated charity for the Irish Guide Dogs this year. The festival raised over €2,000 for the Irish Guide Dogs
More from Entertainment