The Young Offenders Christmas Special Is Coming To TV Screens!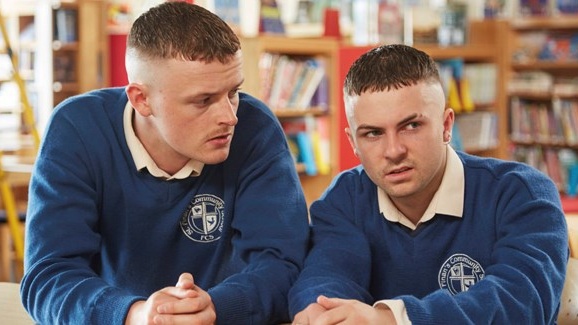 The Young Offenders Christmas Special, filmed in Cork in October, is a Vico Films standalone special made for the BBC, in association with RTÉ.
Peter Foott is the writer, director, and executive producer on the show and Martina Niland (Once, Sing Street) produced. The Christmas Special can be seen in December and follows on from hugely successful BBC series and smash hit feature film of the same name.
The plot is as follows: It's Christmas week, and the residents of the estate where Conor (Alex Murphy), Jock (Chris Walley) and Mairead (Hilary Rose) live have been fighting off an eviction from the council for over a month. The residents have created a barricade to show their determination that they won't be moved to make way for the estate to be renovated. While all this is happening, Mairead has been sick for weeks and has to be taken to hospital. The situation proves to be more serious than thought and not knowing how to help, the lads ask Mairead if there's anything they can get her. The two friends set off on a chaotic adventure to try make her wish come true and in the process find out something about themselves and the value of empathy. Alex Murphy, Chris Walley and Hilary Rose star, with Robert Sheehan guest starring.
More from Entertainment