CUBS Conference 2019 Set to Inspire Future Business Leaders As Students & Guest Speakers Unite For Third Annual Event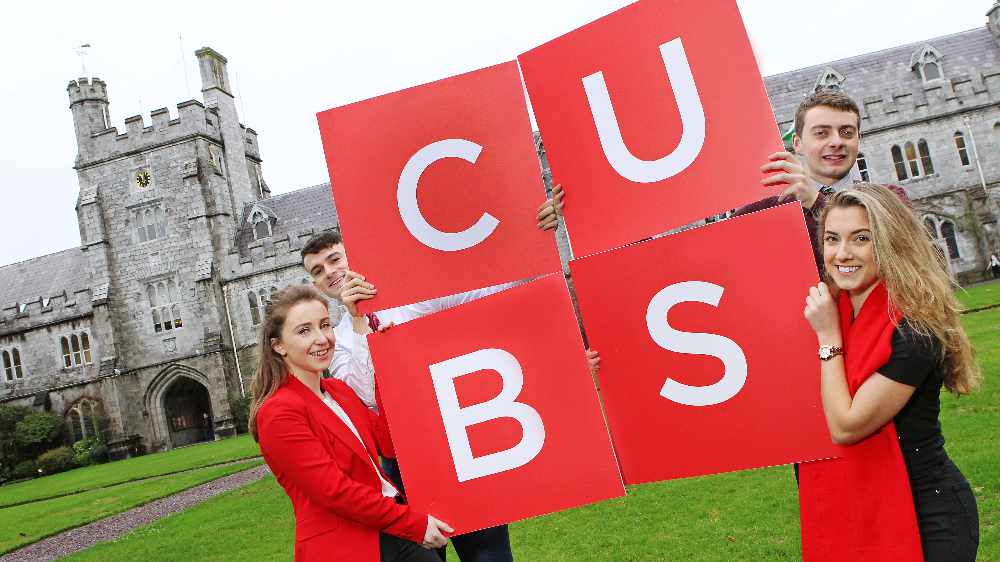 This week marks the official launch of the 2019 CUBS Conference; an annual event that will take place on Wednesday 13th March at the Cork Opera House.
Now in its third year, the 2019 Conference will feature a selection of notable guest speakers and CUBS graduates, who will offer an insight into the changing landscape of Irish and international business as they speak on a variety of topics, from entrepreneurship and sustainability to the graduate experience.
Aptly named 'Leading the Way', the theme of this year's event references the overarching outlook of CUBS and the potential of its students, who play an active role in the coordination and delivery of the Conference. Each year, the event has served to open lines of communication and discussion on topics such as expectations of graduates within a dynamic, innovative workplace; growth and prosperity in the face of economic uncertainty; and the future of the Irish workforce.
This year will be no exception, with an array of special guests on the impressive agenda. Popular radio broadcaster and TV presenter Matt Cooper will lend his support as one of the MCs of the event, while sports stars Liam Sheedy, Paul O'Donovan and Caroline Currid will take their places on the 'Performance Mindset' panel, delving into the psychology of performance in business and sport.
Chairman of Bank of Ireland and former CEO of Paddy Power, Patrick Kennedy, will take to the Opera House stage as one of the keynote speakers, sharing his expertise and illuminating insights with the expected 1,000 audience members in attendance. Sharing the keynote speaker duties will be communications expert and author, Gina London, who has built a sterling reputation for lending her expertise and honed skills to many prestigious public events. The conference will also include a panel of CUBS alumni headed up by Ms Honor Moore, Managing Partner of Deloitte in Cork, and a panel on the future of sustainable business led by Mr Padraig Mallon of Kerry Group.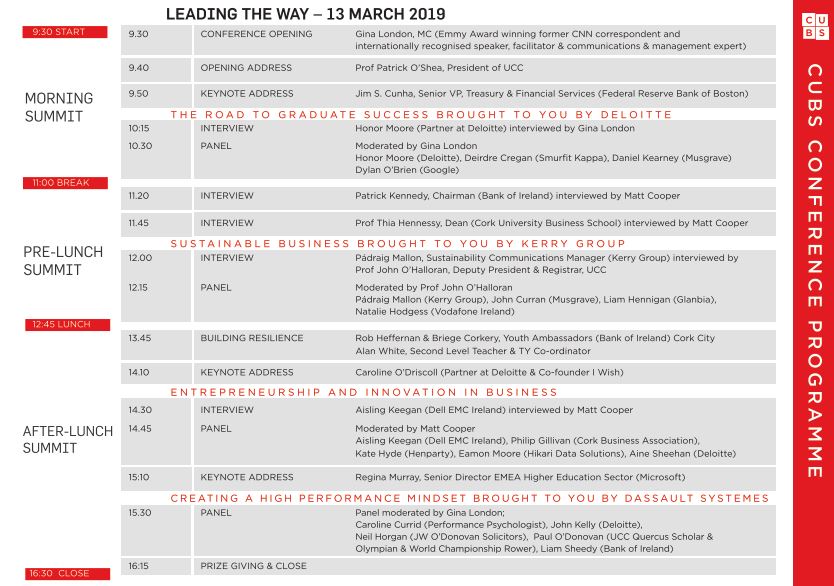 As a globally-renowned centre for research, learning and teaching and armed with a mission statement that prioritises the professional development and learning experience of each individual student, CUBS offers an educational environment that successfully combines industry and academia. With a dedicated team of 120 permanent professors and academic lecturers, the school prides itself on being the largest provider of undergraduate business education in Ireland. A staggering 95 percent of CUBS graduates secure immediate employment; good news indeed for the estimated 4,000 students expected to enroll over the course of the next five years.
CUBS officially opened the UCC Centre of Executive Education – an integral part of the Business School – in November last at an impressive site on Lapps Quay; a listed building that formerly housed the Cork Savings Bank. This initial development is part one of a two-phase capital investment project and will serve as the base for CUBS' executive education programmes such as the Executive MBA and all city-based Irish Management Institute programmes. The second phase will be located at the aforementioned Trinity Quarter site.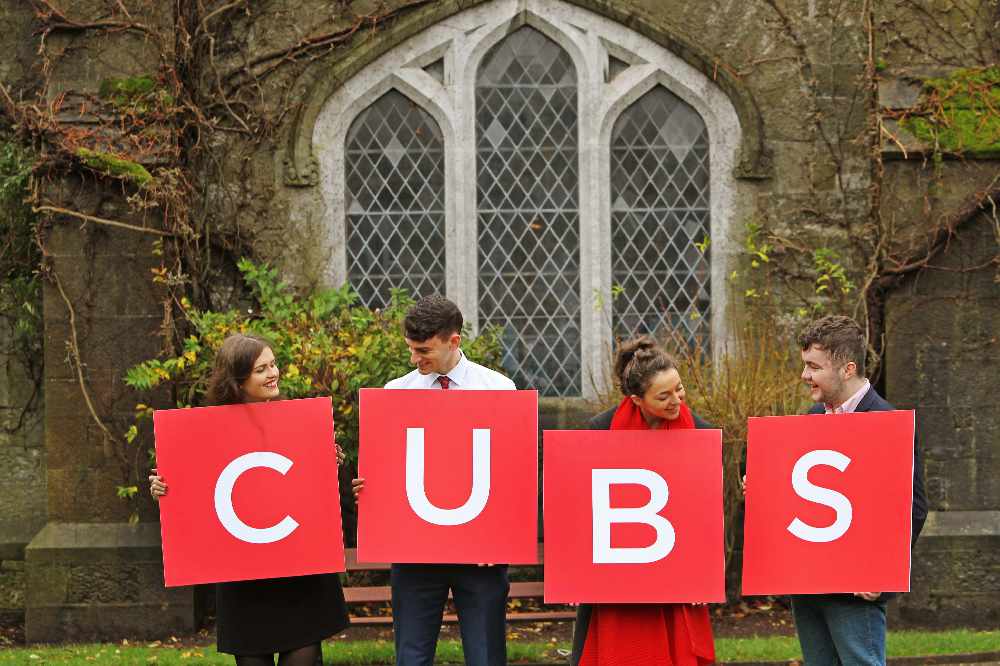 Professor Thia Hennessy, Dean of CUBS and Chair of Agri-Food Economics at the School, expressed her enthusiasm for the Business School's bright future, as well as her expectations for the upcoming CUBS Conference, saying: "Now that we're in the third year of the CUBS Conference it feels like the event has really come into its own, with more being brought to the table year on year in terms of content and guest experience. With such a diverse range of speakers lined up this year, there is a story to inspire everyone in attendance and we hope the event will do just that; inspire, excite, motivate and encourage young students – and indeed established business professionals – to become leaders and influencers in their own right."
The 2019 CUBS Conference will take place on Wednesday 13th March from 9:45am-3:45pm. Tickets are available at here and are priced at €10 (students) and €50 (corporate rate, includes lunch).
For more information on the full line up of speakers, or to purchase tickets visit https://www.cubsucc.com/cubs-conference.
Follow the CUBS Conference on social media using #CUBSConf.
More from Business